Moss Wood 2003 Amy's The Amy's Blend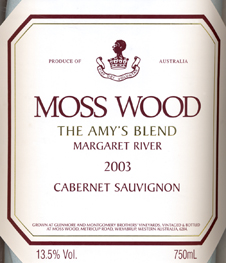 Wine Facts
| | |
| --- | --- |
| Harvested: | 2/4/2003 |
| Bottled: | 3/8/2004 |
| Released: | 29/9/2004 |
| Yield: | 9.00 t/ha |
| Baume: | 12.90 |
| Alcohol: | 13.50% |
| | |
SOLD OUT
---
Tasting Notes
Delightfully approachable with fragrant red berry aromas, redcurrant, blueberry and dark berry flavours, soft, spicy oak and a supple palate with attractive sweet fruit ripeness, velvety texture and good mid-palate weight. There are balanced quite firm but fine ripe tannins and a touch of oak on the finish.
While it's a friendly easy drinking red, it's quality should not be underestimated.
Award: Gold 2005 Medal in The International Wine & Spirit Competition.
Award: Decanter Fine Wine www.decanter.com Recommended - 3 Star Award in the Panel Tasting Review of Western Australian Cabernet Sauvignon.
Vintage Notes
The 2003 vintage is well regarded in Wilyabrup. It was a consistently warm year with some hot weather, though no extreme spikes as occurred in 2004. As a result, it was an early season in which yields were lower than usual. It was a great year for cabernet, with ripe redcurrant and cassis flavours, rich texture and ripe concentrated tannins.
In years like 1981, 1986 and 1997, small crops can produce tannins that may be disjointed and too assertive. That has not been a problem in 2003. The vintage and the wines remind us of 1983 when there was a better balance between tannins and fruit weight than in more difficult years.
Production Notes
The same viticultural and winemaking principles apply to this wine as apply to every other Moss Wood wine. The grapes are monitored as the vines move close to full ripeness and are picked to achieve optimal flavour. There is about a week between picking on the two vineyards with the more northerly Glenmore, naturally, being first. In the winery, fruit from the two vineyards is processed in separate batches. As with the other Moss Wood reds, it is fermented in open tanks and hand plunged four times a day. After fermentation, it is left on skins and tasted to see that the tannins are balanced. At that point, they come off skins and are placed in barrel where they go through malolactic fermentation. After both batches have been through malo, they are racked off and blended. They are then aged in French oak (25% new - less than the other cabernets) for twelve months.
With The Amy's, the team at Moss Wood are looking to retain more freshness, primary fruit and softness than in the Moss Wood or Ribbon Vale reds. To achieve this, the wine spends less time in barrels, but as a result has less tannin and complexity.
The following are not technically Production notes, but go some way to explain what we are attempting to achieve with the Amy's.
The style of the The Amy's wine will evolve with time: the 2003 The Amy's Blend is not the final statement.
The Glenmore component is true to its Yallingup origins with an elegant palate, refined structure and blueberry fruit notes. The Montgomery Brothers vineyard is somewhat in between the Margaret River vineyards to the south of the township which show a fruit profile in the region of tamarillo and the ripe, dark berry, cassis flavours of Wilyabrup. It shows redcurrants on the nose and has a breadth of red and dark berry fruit on the palate.
Max and Rita Montgomery's Montgomery Brothers vineyard is one kilometre north of Ellensbrook Road, about 10 km due south of Moss Wood. It is planted on north facing, gravelly loam slopes. Moss Wood have been consulting for the Montgomery's since they planted the vineyard. When Hay Shed Hill were unable to buy the first crop in 2002, Keith offered to make the wine - and pay for it if he could find a buyer or give the Montgomery's the wine if that were not possible. The Sydney super chef, Tetsuya Wakuda, long an admirer of Moss Wood, had been looking to source a Cabernet to sell under his own label. He jumped at an opportunity to buy a batch of the Montgomery Brothers Cabernet to sell at his restaurant under his label, "Cabernet Sauvignon - made for Tetsuya's by Moss Wood".
At present, Glenmore contributes two-thirds of the blend. As the Montgomery Brothers vineyard matures, it will make a greater contribution to future Amy's vintages.
Cellaring Notes
Should drink well even in the short term, but can be cellared with confidence for five years.