Moss Wood 2002 Cabernet Sauvignon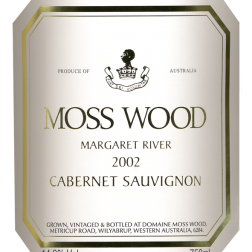 Wine Facts
| | |
| --- | --- |
| Harvested: | 19/3/2002 |
| Bottled: | 28/8/2004 |
| Released: | 30/6/2005 |
| Yield: | 8.50 t/ha |
| Baume: | 13.30 |
| Alcohol: | 14.00% |
| Vintage Rating: | 8/10 |
SOLD OUT
---
Tasting Notes
The Moss Wood Cabernet Sauvignon has fresh berry fruit aromas of raspberry, mulberry and redcurrant that combine with cherry, spicy oak and cedar with leaf overtones. There are also hints of coffee bean, chocolate and eucalypt.
The theme of lively fruit characters continues on the palate with lifted mulberry and redcurrant fruit flavours combining with full to medium body, giving quite long and generous depth and texture. The tannin structure is firm, combining grape and oak tannins that give weight and structure to the mid and back palate. The fnish is soft spicy and smoky oak flavours.
Overall, the wine has firm acid and tannin which is balanced by reasonable fruit characters that belie the cool nature of the season.
Moss Wood 2002 Cabernet Sauvignon - Huon Hooke, Gourmet Traveller Wine
Moss Wood 2002 Cabernet Sauvignon - Tyson Stelzer, tysonstelzer.com
Vintage Notes
The growing season in 2002 was very mild and was therefore especially good for the white varieties, making wines with lively fruit aromas on the nose and crisp, lifted acidity on the palate.
For the red varieties, the early ripening Pinot Noir and Merlot made exceptional wines but for Cabernet Sauvignon it was more difficult. These wines were slow to reach full flavour maturity although full sugar ripeness was achieved and so the wines have lively acidity balanced by good weight from alcohol.
Production Notes
The production of this wine has become pretty much routine for at Moss Wood. The Delta E2 was used to destem the berries without crushing the grapes - to keep tannin extraction to a minimum. Fermentation was activated by pure yeast culture and took place at the usual warm temperatures - up to 32 degrees celcius. Each fermentation vat was hand plunged four times a day and the wine was left on skins for between 10 to 14 days after fermentation. As usual, the decision about how long to leave it on skins was made by tasting the wine daily.
After that, it was pressed and placed into barrel (50% new French oak, 50% two year old) for two years with all the pressings included in the finished wine. At the beginning of July 2004, it was racked into tank for assemblage and filtered (but not fined) before being bottled in August 2004 and then rested for a year before release.
As with the 2001, 70% of that vintage has been sealed under the Stelvin closure.
The blend for the 2002 Moss Wood Cabernet was cabernet sauvignon (93%), cabernet franc (3%) and petit verdot (4%), which has been standard since 1997. There are such small amounts of cabernet franc and petit verdot at Moss Wood that, if good enough (and they invariably are), go into the wine as they add some pleasing complexity.
Cellaring Notes
Wines of a similar style in the past include the 1982 and 1993 vintages, both of which have continued to age well, and on that basis the 2002 has good ageing potential.
Recommended cellaring time is 15 years, with a minimum of 10 years.