Moss Wood, established 1969, is a small family business, two generations of which now work within it.
We value our vines, wines, and those who work with us at the highest level and wish to nurture all to their full potential.
What is working at Moss Wood?
Always striving for perfection.
Moss Wood was established as a specialist, high-quality winery. This was its raison d'être and still provides the motivation for its continued existence.
It is Clare and Keith's belief that all decisions made in the vineyard, or at the winery, are based on the effect they will have on the quality of the wine. As a relatively new wine producing area, Margaret River has a short viticultural history, therefore winemakers need to be continually reassessing their soil management practices and the performance of their vines if they are to understand the viticulture of the region and obtain the best results in the vineyard.
We put significant effort into developing an appropriate style for each of our varieties but the Cabernet Sauvignon, being the first wine, was our primary focus at the time. Naturally, we looked to the great wines of Bordeaux for inspiration and carefully examined the style of numerous of that region's wines in the search for clues.
We were making wine in Margaret River and if we wanted to make wines like those of the Medoc, then that's where we should go. Margaret River's individual climate meant it would always be different.
At Moss Wood we believe wine quality is determined in the vineyard and viticultural techniques are constantly reassessed and informed by current research, both of others and our own. This has seen trials and improvements in trellising systems, soil conservation practices and pruning practices.
Paul Lesbats
Winemakers on secondment
( 2020 vintage)
"It's with great pleasure that I had the opportunity to participate in Moss Wood's 2020 harvest which has left me with amazing memories. I learned that to make great wines there are no secrets, you need an exceptional terroir sublimated by passionate people. The work has to be rigorous and precise without losing conviviality. Clare, Keith, Tristan, Hugh, and Alex are always making sure that every member of staff is well included in the team. People come from all over the world and for this short period of time built up a united team that believed in the same values. I think every single one of us will remember the opportunity we had to work at Moss Wood, where long-lasting relationships begin. However, it's not only the people it's also a unique, magical place. Landscapes are breathtaking and you can feel the family atmosphere around the vineyard.
Finally, the technical knowledge is immense, efficient new technologies allow us to manage every step of the production with great precision. This added to a lot of experience which they happily share with humility. Do not hesitate a second to discover Moss Wood, great wines, and its amazing team! You won't be disappointed, French guarantee."

Manon Dhabit
Winemakers on secondment
(
vintage 2016)
"Working at Mosswood was an incredible experience for me, it has been the perfect combination of learning new technical skills and sharing unique moments in a warm and family atmosphere. I went there to work in a human size winery and to discover Australia, I found great wines made by the ingeniosity of a family of winemakers always well surrounded and a wonderful lifestyle between fishing/surfing and winemaking.
I definitely learned many things because I was involved in every task at the vineyard as well as in the winery. In addition, it opened my mind thanks to all the conversations and debates we had with Clare and Keith Mugford close to the grill on starry nights. Definitely the best way to discover Margaret River area and Australian culture, I'll always be grateful to them."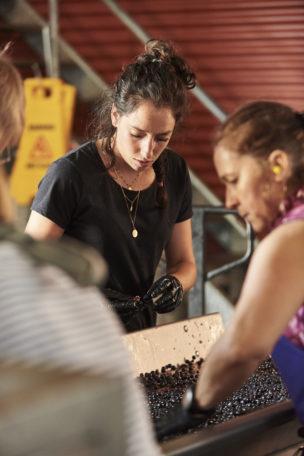 Justine Labbe
Winemakers on secondment

( vintage 2019 )
"From my first day at Moss Wood I was warmly welcomed by Keith, Clare and all the team.
It was a very hands-on experience where I had the opportunity to learn a lot a technical processes by making very high quality wines. I had the opportunity to learn a lot with all the permanent team so I improved my skills a lot.

I couldn't have had a better experience than sharing the Mugford family's passion for wine and discovering the amazing Margaret River region.

I highly recommend to go there and taste the wines!"
Simon Nankivell
Winemakers on secondment
( vintage 2018 & 2019)
"There are many reasons why my two vintages at Moss Wood still stick in my mind as some of the best experiences I've had in the wine industry. Warm days beginning with late-summer sunrises over the vines, filled with vineyard sampling, tasting ferments, meticulous processing, cleaning (obviously), and ending with sunset swims at Gracetown after the last punch-downs of the day—all to the beautiful chorus of native birdsong and Keith swearing in French. But mainly it's seeing the perfect alignment of vine, soil, and climate that is so hard to find, which makes Moss Wood one of the best vineyards I've seen, and continues to shape my views on what it takes to make great wine."

Ryan Donnelly Wine Making Student – Vintage 2020
"I will always look fondly back on my Moss Wood vintage due to the passionate, welcoming and knowledgeable staff and working environment. The winemakers Keith, Clare, Alex, Tristan and Hugh were extremely generous, taking time to share their knowledge and experiences in producing some of the top wines of Margaret River, from the vineyard to the bottle. Moss Wood has helped reinforce my passion for viticulture and winemaking and I appreciate the opportunity to work at such a prestigious winery alongside the generous staff. Thanks again Moss Wood."

Valérie Burkhardt
Office Manager
( 2011- current)
"Even after nearly 10 years at Moss Wood there hasn't been a boring day at the office! With task including, wine stock management, export and domestic distributors orders organisation, Moss Wood members orders dispatch and invoicing, bottling organisation support, Labelling of international and domestic stock.

Packaging purchase and stock management, accounting support, PA work, maintenance, security related duties, the list goes on and on. With an open mind and eye to details as well as a taste for problem solving amongst a family like company, time has been flying by."
Roles at Moss Wood are many and varied and include and are not limited to:
Viticulture
Composting
Winemaking
Marketing – also includes 

working

 with distributors & analysis amongst many other aspects
Public relations & communication
Web design, maintenance and development
Packaging (Bottle, label, carton, wooden box) procurement
Bottling, labelling, packing orders, logistics
Export documentation
Domestic and Overseas exhibitions, tastings, presentation
General administration
Finance

Bookkeeping
Accounting
Analysis

General Farming
Vintage internships
Traineeships for school leavers and others
Work experience for school students and other students
Gardening