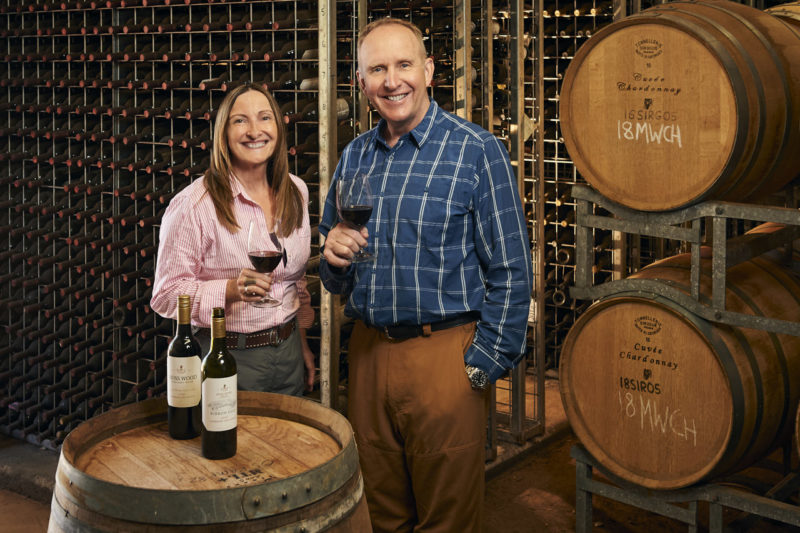 "Moss Wood Portrait of two winemakers" – Anna Caidan, Le Sommelier
Moss Wood Portrait of two winemakers
Anna Caidan meets Clare and Keith Mugford, joint winemakers and proprietors of Moss Wood in Margaret Valley Western Australia
What can you tell me about the history of Moss Wood?
Clare: 'Moss Wood came about because it was of interest to Bill and Sandra Pannell, after a paper, written by a Dr John Gladstones, who was an agronomist at the University of Western Australia about the consistency of the climate in the Margaret River region. So, his paper informed the first few people who planted in Margaret River. Moss Wood was planted in 1969, making it the second commercial vineyard in the area. It was the first winery to plant Cabernet Sauvignon in the region. By 1979, the Pannell's felt that they needed a qualified winemaker, so they brought in Keith who had just graduated from Roseworthy college in South Australia, which is famous for striving winemakers and viticulturists. Bill Hardy, who was famous in wine and viticulture, suggested hiring Keith to take over as winemaker. So, they did! They interviewed Keith in Adelaide and he thought it would be a good idea to make wine in Margaret River because he could go surfing and make interesting wine! When Keith and I met, the Pannell's had always talked about a partnership with Keith, as the Pannell's had four young children. By that time Keith and I were thinking of getting married, and wondering what we were going to do next, Keith approached the Pannell's and agreed to lease the vineyard. They went off on holiday, and after six months they came back and asked us if we would like to buy it. As we were only 24 and 26, we thought it was going to be difficult. However, they came up with a good plan, so in 1985 we bought the vineyard and we have added to plantings since; it has been an interesting learning curve for me, it was a complete career change, but we found it challenging and interesting too!'
Keith: 'We bought Moss Wood in 1985, and then by the end of the 1990s we had four children. If the four of them wanted to be involved in the business, then Moss Wood wouldn't have been big enough to accommodate all their interest. And so we looked around, and in the end we had a discussion with John James who had established Ribbon Vale Vineyard, a little bit younger than Moss Wood, 1977 was its first planting, but Ribbon Vale was very similar to Moss Wood with similar vines and similar soils, slightly different plantings, the varieties were slightly different, Moss Wood was growing Semillon, Chardonnay, Pinot Noir, Cabernet Sauvignon. Ribbon Vale was growing Semillon, Sauvignon Blanc, Cabernet Sauvignon, Merlot and Cabernet Franc. So, John was happy, and in 2000 we bought Ribbon Vale, so in total now we have around 23 hectares between us.'
What is your favourite step in the winemaking process?
Clare: 'The thing that I find most interesting is the transition from juice to wine. So, pressing for red wines, and end of fermentation for white wines, because it's the first time you see the finished wines. Tasting those grapes on the vine and then to smell and taste them as finished wine still as an infant for me is the most interesting.'
Keith: 'The most fun and interesting part for me is picking day. So, when we pick and process the grapes, the combination of standing in the vineyard and monitoring the grapes, and then going ahead and picking them, where we have everybody involved, is really exciting!'
What is the secret to making Moss Wood wines?
Clare: 'Site. A very special site, and forty years of knowledge of growing the vines on that site and making the wines from it.'
Keith: 'I agree with that. The location is very important, the Moss Wood has its own individuality because its topography is unique and were in a good area in Margaret River. We have a good vineyard with good soils and then if you look after that, then the grapes can carefully grow, and you take them to the winery and take care of them there. But the most important part is the vineyard itself; that's where the quality starts.'
What is your best memory since working at Moss Wood?
Keith: 'There are a lot of memories, most of them good!'
Clare: 'I would agree, we have lots of great memories! My most treasured memory of working in the wine industry is sitting at Len Evan's lunch table. He had a Monday lunch group, and we were privileged enough to sit at his lunch table in 1987, and he shared with us a bottle of 1919 La Tâche! 1919 was my mother's birth year, so that was the thrill of my life, in wine! There were actually a few other thrills around that time, but that occasion was one of the biggest!'
…and the most challenging?
Keith: 'When there was damage to the vineyard. We had a terrible hailstorm in 1996 which decimated the 1997 crop. So, seeing that and trying to recover from it was probably one of the worst things. Just standing there watching this huge hailstorm come past and there was nothing we could do, just watch, bashing the vines pretty badly and when it's over, going to see what's left, see if there's anything you can do, but I would definitely say that was one of the most challenging.'
What is the story behind the labels?
Keith: 'The original Moss Wood label which was designed in 1973, which was when the ownership was still under Bill and Sandra Pannell, was all about simplicity. All it had on it was who made the wines, what the vintage was, where the vineyard was located, and that was basically it. You can go down different routes with wine labels, you can choose colourful designs with pictures or you can have something relatively plain, but is simple and easy to read, which is what we went for. Our favourite Bordeaux wine at the time was Château Pichon Longueville Comtesse de Lalande, and Pichon is the classic simple printed label with gold foil, with no doubt about who made it or where its from, and so the original Moss Wood label was inspired by Pichon Lalande! Family crest, Cabernet Sauvignon 1973 and it was that simple, and that is where the label began, and it's similar to where it is now, but we've had to change it quite extensively over the years because of the regulatory environment. Back in 1973 Moss Wood only sold in Australia and then it was so straightforward! It was easier to get the legally required items on the labels. Now it 2018, Moss Wood is sold all around the world and it has to comply with the regulatory environments. Moss Wood is an English name. There is a farm in Cheshire here in England. Bill Pannel's parents were regular visitors to the UK and it was a friend of his who loaned them Moss Wood in Cheshire. Bill and Sandra liked the name so much, they wrote to the people in Cheshire to ask them if they could use the name for their vineyard. So, Moss Wood became an Australian name as well! It's a name that people seem to like! They like the name and they like the wine, and we put that down to its simplicity, it's easy to say, easy to remember, and Moss Wood actually has a pretty connotation with it, if you say it out loud, you think of trees and undergrowth, which is actually what it's like!'
When is the best time to drink your wines?
Clare: 'At the stage you most like wines to be! At the developmental stage, if you prefer primary fruit aromas and flavours then drink the wine young. But if you don't which not everybody does, then give 5, 10, 20 years! The Moss Wood cabernet actually has the history and can give us the confidence to say that you can give it 40 years before drinking it! Especially these days, because we seal all our wines with screw-caps, and we have the confidence that the wine's seal is not going to fail it unless it has been knocked and the seal has been broken. It won't taint and it has been sealed with enough oxidative elements to allow the wines to age.'
What type of food pairs best with your wines?
Clare: 'I think it's interesting because we've just been tasting all our current wines, the Merlot, Sauvignon Blanc, Semillon, Chardonnay, Pinot Noir, Cabernet and our Amy's wine, and each one of them has fresh primary fruit aromas and flavours that might pair well with fruits. Sauvignon Blanc with fruits that are limes or gooseberries, Semillon with figs and apples, Chardonnay with peaches, nectarines or nuts, Pinot Noir with plums or red fruit, Merlot is really interesting because it would go well with black or blue fruits, blackcurrants or blueberries, and the Cabernet with red fruit. All of those wines have savoury characters that would allow them to be paired with savoury foods. The limes and the gooseberries in the Sauvignon Blanc would pair nicely with fish or seafood, the Semillon would be very nice with pork or chicken and scallops, Chardonnay goes very well with pork or chicken or turkey or anything nutty. You can't go wrong with pork or turkey with cranberry sauce with Pinot Noir! Merlot has so really olivaceous notes, yesterday I had spaghetti puttanesca and it would have been really good with that, picking up the anchovies and the olives. Our Cabernet I think you could do rich meats, beef, cheeses and chocolate!'
Keith: 'Everything! I reckon you can eat anything with any white, and the way I think about it is; if I'm going out for dinner, then I look at the menu, see what dishes I want to try and look at the wine list and see what wines I want to try and I don't really every try and match them, and I don't really care to, I just try and enjoy them as they are. I'm happy to drink wine with spicy food, with Asian cuisine, even Szechuan food, something really spicy, like a hot Thai curry, or even central Asian like an Indian curry. I don't have any problem with people pairing their wines, but I'm happy for Moss Wood to be enjoyed with anything!'
How would you describe the Australian way of life?
Clare: 'Outdoorsy! We love our swimming, the beach, cricket, outdoor sports, a fresh clean sunny warm environment, not having to wear too many clothes.'
Keith: 'We have an outdoor lifestyle, but not everybody does.'
Clare: 'I think that's more of a West Australia lifestyle. Western Australians definitely prefer being outside.'
Keith: 'Australians are quite widely travelled, which means we've integrated a lot of activities into our lives that have come from other parts of the world. I guess we still have the remnants of our English culture and our Irish culture but adding to that the Mediterranean culture that has come in; Italian, Greek, Serbian, Croatian.'
Clare: 'Which means we have lots of different types of cuisines. We have lots of inter access to a lot of fish. people love fresh fish and seafood!'
Keith: 'We find it a nice interesting place to live!'