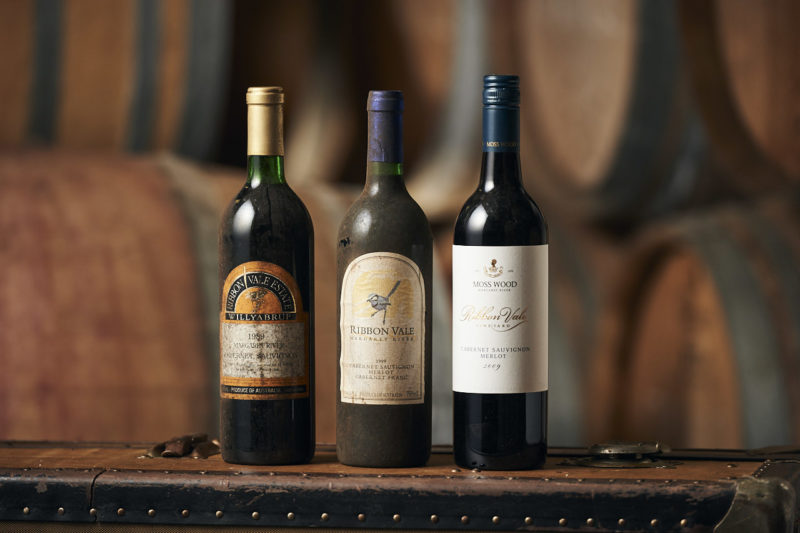 Moss Wood Ribbon Vale Cabernet Sauvignon and Moss Wood Ribbon Vale Merlot
In the wine industry we have to be patient.  To draw an analogy from cricket, winemaking is more Matt Renshaw than David Warner and very little happens quickly.  It's now more than 17 years since the Mugford family purchased Ribbon Vale vineyard, in March 2000.  Although it was fully established and producing good wine, we were determined to put our own stamp on it.  With the release of the 2015 red wines, of which we are very proud, we thought a review is timely.
Progress has been steady and each vintage has added to our understanding of the site and how it performs.  Ribbon Vale is a unique environment and learning how this differs from Moss Wood has proven a fascinating exercise.
The two vineyards offer an insight into the French concept of "terroir".  The same people manage the two locations and their resulting wines, with identical techniques but the wines are not the same, despite there being barely more than one kilometre between them.  They even have very similar soil types.  However, Ribbon Vale is an elevated location, with aspects out to the south and west, is therefore cooler and ripens more slowly.  Moss Wood looks out to the north and east, is more sheltered and commensurately warmer.  We're now getting the hang of what that means for ripening times and fruit flavours.
Improvement in the Ribbon Vale style have also been driven by upgrades we've made to the property.  Most notable amongst these are the improvement of the trellising by the introduction of the Henry system and also the introduction of the Houghton Cabernet Sauvignon clone.
We must make special mention of Merlot.  This is a variety with which we had little experience before 2000 and we freely admit we've been on a steep learning curve.  It performs quite differently to its Bordeaux siblings, Cabernet Sauvignon and Cabernet Franc, and needs a different management approach in both the vineyard and the winery.  It shouldn't be over-cropped and it definitely needs special attention during fermentation to tease out its colour and flavour.