Moss Wood 2017 Cabernet Sauvignon 750mL (SOLD OUT)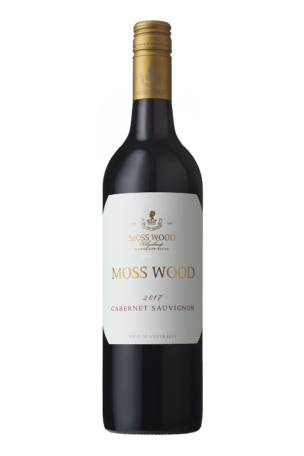 ARE YOU A MOSS WOOD MEMBER?
Get our current member offer of 10% off the standard online wine purchase prices & 
free domestic shipping for orders over $100 AUD.
TASTING NOTES
 Colour and condition:
Deep brick red, in bright condition.
Nose:
A classic Cabernet combination of blueberries, violets, blackberries with tar and cedar notes. The musky, black fruit note also suggests the higher percentage of Petit Verdot this year. There's also pencil shavings and pomegranate and a very light toasty oak.
Palate:
In the traditional Moss Wood style, the first impression here is one of bright, generous blue and black fruit flavours, sitting over concentrated but balanced tannin. It's the classic vineyard statement. However, there are also some pointers to the 2017 season, with crisp acidity, giving the palate a taut, almost zippy feel. The finish is firm, with a very light touch of toasty oak, mixing with cedar and tar.
Cellaring:
Apparently, Mark Twain once said history never repeats itself but it often rhymes and we reckon grape growing seasons are a classic example. Moss Wood followers will know we're fond of reminiscing about vintages past and how they compare with current releases and yes, it's a useful way to give perspective on wine style and cellaring potential. With the 2017 we turn immediately to the 1990 because these two share some remarkable similarities. Both were mild growing seasons with plenty of rain and in March, not only were the dates similar but also the amounts. It resulted in similar ripeness, 13.0 Baume in 2017 compared with 12.8 in 1990, and harvest with the former picked on 10th April and the latter on the 12th. Most importantly, this means we have great expectations of the 2017 because its older sibling remains one of Moss Wood's finest that continues to drink well 30 years later. At present, the wine is showing vibrant fruit aromas so it's an appealing youngster and can certainly be enjoyed now. However, the underlying structure is firm and will support long term aging, just as it did for the 1990. Over the next decade it should begin to soften but it will take until at least 20 years of age before it reaches full maturity.
Learn more about Moss Wood 2017 Cabernet Sauvignon
We exclusively seal our wines with the superior screw cap closure. Learn more
MOSS WOOD CABERNET SAUVIGNON REVIEWS
Deep crimson. Classical blackcurrant, blackberry, cedar aromas with mocha, hint sage notes. Beautifully balanced and concentrated palate with fresh pure blackcurrent, blackberry, mulberry fruits, fine loose-knot grainy tannins and well integrated roasted almond, vanilla oak. Builds up cedar firm with an inky long plume. Let it develop for a few years at least. 96% cabernet…