2002 Moss Wood Green Valley Vineyard Chardonnay
2002 Moss Wood Green Valley Vineyard Chardonnay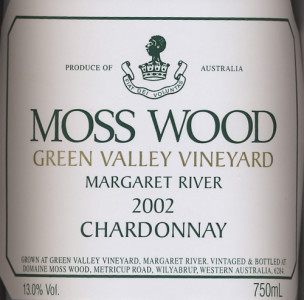 Wine Facts
| | |
| --- | --- |
| Harvested: | 10/3/2002 |
| Bottled: | 23/1/2003 |
| Released: | 8/4/2003 |
| Alcohol: | 13.00% |
Background Notes
Green Valley Vineyard is a small, six hectare property which was established in 1980 by Ed and Elenore Green. It is located on Sebbes Road, 16 km to the south of the township of Margaret River close to Devil's Lair. It has an attractive, cool, north-facing location, shelter from prevailing winds, is frost free and has good soil.
Tasting Notes
The Moss Wood 2002 Green Valley Vineyard Chardonnay is a sensational wine. In a couple of in-house blind tastings, it has outpointed the wine from the Moss Wood vineyard and is very impressive indeed. It is fragrant, even floral, with peach, pear, grilled nuts and cedary oak on the nose, is lively, clean and vibrant, has cashew, nectarine and pear flavours with some leesy notes, and fresh, crisp acidity on the finish. The wine has minerally characters which enhance its complexity and gives it some savoury overtones. It is subtle but has underlying power and good weight, is delicate yet has richness and concentration. A very satisfying chardonnay.
Vintage Notes
Since the 2000 vintage, Moss Wood has been making wine for Green Valley on a contract basis. We are particularly impressed with their chardonnay which shows ripe fruit, fine texture and a fruit profile – more pear, citrus and melon – that is different from Wilyabrup – which tends towards peach, melon and some citrus. Green Valley felt that it would be difficult for them to sell such a small volume so Moss Wood agreed to buy the wine. The result is 170 cases of chardonnay that provides a fascinating contrast to that coming from the Moss Wood vineyard.
Production Notes
Each of the chardonnays made at Moss Wood in 2002 were made using the same traditional method. This means differences between the wines are entirely due to differences between the sites from which the grapes were sourced. See more detailed production notes under Moss Wood 2002 Chardonnay.