1985 Moss Wood Vintage Port
1985 Moss Wood Vintage Port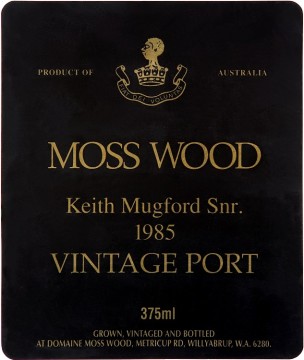 Wine Facts
| | |
| --- | --- |
| Harvested: | dd/mm/yyyy |
| Bottled: | dd/mm/yyyy |
| Released: | 20/7/1998 |
| Alcohol: | 19.00% |
| | |
| | |
| | |
Tasting Notes
The 1985 Moss Wood Vintage Port has been named after Keith Mugford Senior who has had a long term relationship with McLaren Vale and a similar long term love affair with fortified wines. Keith Senior who (like his son) had despaired of ever seeing the 1985 in bottle, often mentioned, with some chagrin that he had not been given the opportunity of monitoring this wine's progress.
The 1985 Moss Wood Keith Mugford Senior Vintage Port has a medium ruby colour with a slightly tawny edge. It doesn't have that fresh fruit character (mulberry, blackberry) that vintage ports get from early bottling, its style is rather that of a liqueur port. On the nose, it shows toasty cashews, plum and caramel aromas. The palate is sound, soft and lush with rich caramel and toffee flavours with some tails character from the fortifying spirit evident on the finish. It has a whopping 19% of alcohol but is very drinkable.
---
Production Notes
With characteristic modesty, Keith proclaims, 'This represents the pinnacle of my career as a fortified winemaker.' As the last release of a Moss Wood vintage port was in 1980, you could be forgiven for not knowing or not remembering that the winery had produced a vintage port. As a mark of sympathy to a homesick McLaren Vale boy, Bill Pannell decided to experiment with a vintage port in 1979 for a bit of fun. He liked the result and so tried again in 1980. The project stalled largely because the crops in 1981 and 1982 were small and in 1983 the quality was such that it was felt that they 'weren't justified in wasting good cabernet on fortified wine.' Complicated customs regulations for purchasing and storing fortified spirit made the pursuit of this style of wine more difficult. However, the feedback from the 1979 and 1980 vintage ports encouraged Keith to have another go in his first solo vintage, 1985.
He made three hogsheads of a vintage port but considered that it was not a roaring success. Not because the wine didn't have good character but because the spirit was too firey.
Following the normal Australian routine of early bottling of vintage port, it was thought that it would have taken the wine several decades to become drinkable. Instead, Keith decided to let the wine age in barrel to bring forward its maturity and allow it to soften. By half-way through last year, after a mere twelve years in barrel, the wine finally reached an acceptable balance. Rather than continue to pursue his brilliant career as a fortified winemaker, Keith says 'That's it folks!'
Two thousand half bottles were released ($30 for 375ml).
© Moss Wood Pty Ltd. All rights reserved. This work may be reproduced on the express conditions that it is reproduced in its entirety without addition, deletion or amendment and that any such reproduction acknowledges that this work has been obtained from, and reproduced with the permission of, Moss Wood Pty Ltd.