1994 Moss Wood Pemberton Vineyard Pinot Noir
1994 Moss Wood Pemberton Vineyard Pinot Noir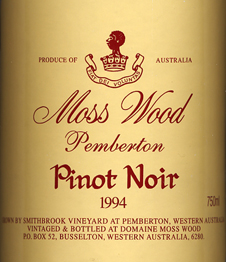 Wine Facts
| | |
| --- | --- |
| Harvested: | 20/3/1994 |
| Bottled: | 14/7/1995 |
| Released: | 15/10/1996 |
| Alcohol: | 13.80% |
| Vintage Rating: | 8/10 |
| | |
---
Tasting Notes
The Moss Wood 1994 Pemberton Pinot Noir is medium to deep red and shows primary fruit characters of cherries and beetroot complexed by spicy overtones and some earthiness. Unlike the Margaret River pinot, the primary fruit characters are savoury rather than sweet. The palate is finer than the Margaret River wine, yet the texture and flavours are lively and they linger on the wine's dry finish. The acidity and tannins are more pronounced yet compliment the wine's varietal statement.
[hr]
Vintage Notes
The fruit for the 1994 vintage came from the Smithbrook Vineyard in Pemberton and was disease free, in good condition and showed consistent colour. The yields were good, on the high side compared with Moss Wood because of the closely planted vineyard at Smithbrook. The quality of the site with its good soils and aspect also support these yields. Keith was aiming to achieve similar levels of ripeness to the Moss Wood pinot and worked closely with vineyard manager and viticulturist, Philip May, to ensure this.
The Moss Wood team travelled the two and a half hours to Pemberton to pick the Smithbrook fruit. It was all a bit of an adventure, said Keith, at least for the younger members of the brigade who relished the opportunity to camp out on the night before the picking with its associated hijinks. There's a hint of apology in the way he noted his indebtedness to Philip and Elizabeth May for their patience, tolerance and incredible hospitality.
The grapes were transported back to Moss Wood and processed in the same way as Margaret River pinot.
[hr]
Cellaring Notes
Keith believed that the 1994 Pemberton Pinot is one of the best yet produced in the region. It is a moderately good cellaring prospect and he would encourage cellaring for about five years as he believes that the wine will drink best between about seven and ten years of age. Because of the lack of history for the wine and the region, Keith recommends caution with extended cellaring.