Moss Wood Ribbon Vale 2015 Cabernet Sauvignon
Moss Wood Ribbon Vale 2015 Cabernet Sauvignon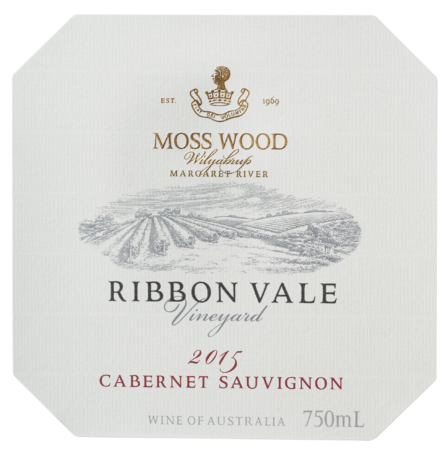 Wine Facts
Blend:
94% Cabernet Sauvignon
3% Cabernet Franc
3% Merlot
Median Harvest:
Cabernet Sauvignon – 27/03/2015
Cabernet Franc – 04/03/2015
Merlot – 12/03/2015
Bottled:
 29/08/2017
Released:
19/10/2017
Yield:
Cabernet Sauvignon – 3.55 t/ha
Cabernet Franc – 5.79 t/ha
Merlot – 5.46 t/ha
Baume:
Cabernet Sauvignon – 13.7⁰ Be
Cabernet Franc – 13.2⁰ Be
Merlot – 12.6⁰ Be
Alcohol:
14%
---
In the wine industry we have to be patient.  To draw an analogy from cricket, winemaking is more Matt Renshaw than David Warner and very little happens quickly.  It's now more than 17 years since the Mugford family purchased Ribbon Vale vineyard, in March 2000.  Although it was fully established and producing good wine, we were determined to put our own stamp on it.  With the release of the 2015 red wines, of which we are very proud, we thought a review is timely.
Progress has been steady and each vintage has added to our understanding of the site and how it performs.  Ribbon Vale is a unique environment and learning how this differs from Moss Wood has proven a fascinating exercise.
The two vineyards offer an insight into the French concept of "terroir".  The same people manage the two locations and their resulting wines, with identical techniques but the wines are not the same, despite there being barely more than one kilometre between them.  They even have very similar soil types.  However, Ribbon Vale is an elevated location, with aspects out to the south and west, is therefore cooler and ripens more slowly.  Moss Wood looks out to the north and east, is more sheltered and commensurately warmer.  We're now getting the hang of what that means for ripening times and fruit flavours.
Improvement in the Ribbon Vale style have also been driven by upgrades we've made to the property.  Most notable amongst these are the improvement of the trellising by the introduction of the Henry system and also the introduction of the Houghton Cabernet Sauvignon clone.
How far have we come?  Well, of course, it's up to you, the customers, to make this judgement and we welcome your feedback.  Nevertheless, our view from the inside is Ribbon Vale is finally delivering the style and quality we are aiming for.  Can we give ourselves a pat on the back?
Tasting Notes
The colour is a very youthful brick red and the condition is bright.
This wine shows the style of the 2015 vintage and quite likely the impact of the small crop.  In such years, Cabernet Sauvignon in particular, has a complex but somewhat subdued nose, where the wine hints of the underlying power and complexity but takes years to reveal its true colours.  So here we see smouldering red currant, black currant and mulberry, with a floral, violet lift, sitting over cedar and tar.  On the palate there is concentration and length – dark fruits combining with firm tannin and leather and tarry notes.
Moss Wood Ribbon Vale 2015 Cabernet Sauvignon – David Bicknell, James Halliday Wine Companion
Moss Wood Ribbon Vale 2015 Cabernet Sauvignon – James Suckling, jamessuckling.com
Moss Wood Ribbon Vale 2015 Cabernet Sauvignon – Huon Hooke, huonhooke.com
Moss Wood Ribbon Vale 2015 Cabernet Sauvignon – Fergal Gleeson, The Great Wine Blog
Moss Wood Ribbon Vale 2015 Cabernet Sauvignon – Bob Campbell, The Real Review
Vintage Notes
Ripening Time from Flowering to Harvest
2015 Ribbon Vale Merlot – 118 days
2015 Ribbon Vale Cabernet Franc – 118 days
2015 Ribbon Vale Cabernet Sauvignon – 125 days
Before we get too carried away, we must acknowledge the sheer quality of the 2015 vintage.  While we lay claim to being competent grapegrowers and winemakers, it's all easy-peasy when Mother Nature serves us up a year like this, one that will likely to join the ranks of Margaret River's finest.
All the numbers speak to the quality.  During calendar year 2014 we had 1244mm of rain, around 25% above average, so our unirrigated vineyards were well watered.  The temperatures during the growing season were consistently warm, without extreme heat.  There were 33 hours when the temperature exceeded 33⁰C and the hottest day was only 37.3⁰C – the sort of conditions where the Bordeaux varieties move steadily to full flavour ripeness.
For all its greatness, 2015 had a down side – yield.  Cabernet Sauvignon cropped at a pitiful 3.55 tonnes/hectare, 50% below average and Merlot and Cabernet Franc continued the theme.  The former produced 5.46 t/ha, down 33% and the latter 5.79 t/ha, down 30%.  Our best explanation for this lies with inclement conditions during flowering.  Over the 6 week period when the Cabernet varieties bloomed there was 70mm rain and 15 days when the temperature dropped below 8⁰C, so fruit set was poor and bunches were around 30% lighter than usual.
So, to the harvest. The Cabernet Franc came off on 4th March at 13.2⁰ Baume, the Merlot on 12th March at 12.6⁰ Baume ripeness, and Cabernet Sauvignon on 27th March at 13.7⁰ Baume.
Each batch was hand-picked, destemmed then transferred to small open tanks for fermentation and hand plunged 3 times per day for extraction of colour and flavour.
Production Notes
The Cabernet Sauvignon was on skins for 15 days, the Merlot for 15 days and Cabernet Franc for 14 days.  After fermentation the Cabernet Sauvignon was racked to barrels on 27th May 2015, the Merlot on 13th April 2015 and Cabernet Franc on 31st March 2015.  All the barrels were 228 litre French oak and the Cabernet Sauvignon received 19% new and the Merlot received 9%.
In December 2016 all the batches were racked to stainless steel for blending.  After blind tastings, the Cabernet Sauvignon was blended with 3% each of Merlot and Cabernet Franc.  The finished wine was then returned to barrel.
On 21st August 2017 the wine was racked to stainless steel in preparation for bottling.  Fining trials were carried out but none improved the wine, so it was then sterile filtered and bottled on 28th August 2017.
Cellaring Notes
It is most definitely a candidate for cellaring and will need at least 10 years to develop some mature characters and then a further 10 years to reach full maturity.  However, its generous young fruit characters will definitely provide enjoyable drinking in the short term.
Our new Ribbon Vale labels
If there is any subject capable of causing healthy debate in the Mugford family its wine label design.  In many ways, opinion about labels is something akin to opinion about art in general and we all know, beauty is always in the eye of the beholder.  Despite the difficulty of getting 6 people to agree, we were able to arrive at a change which we hope will take Ribbon Vale out of the shadow of its older sibling, Moss Wood.  We have endeavoured to keep with our tradition of using simple layouts, although for the first time there is a stylised image, which we hope captures something of the natural beauty of the vineyard and the Wilyabrup valley.  We hope you like it.