1989 Moss Wood Semillon Wood Matured
1989 Moss Wood Semillon Wood Matured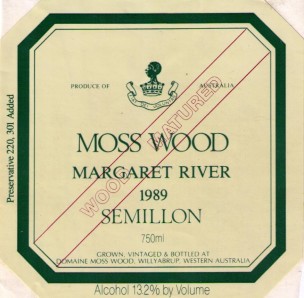 Wine Facts
| | |
| --- | --- |
| Blend: | Wood Matured |
| Harvested: | 14/3/1989 |
| Bottled: | 9/8/1989 |
| Released: | 11/9/1989 |
| Yield: | 12.50 t/ha |
| Baume: | 12.30 |
| Alcohol: | 13.20% |
| | |
Tasting Notes
The resulting wine has a rich structure, an almost luxuriant fullness, lovely flavours and is surprisingly long on the palate. Its good acid means that the wine is well-balanced, in spite of its richness. When compared to other vintages of Moss Wood or other wines from Margaret River, it has less of the grassy, herbaceous character that is typical in young Semillons from this region.
Although attractive when young (some would say 'irresistible') the Moss Wood Semillons and wood-matured Semillons do age remarkably well. Keith believes that the wine is an excellent cellaring prospect and will exhibit classic aged Semillon characters after ten years. While musing on the cellaring prospects of this wine, Keith and Clare remembered the impact of a ten year old bottle of 1977 Moss Wood Semillon on a group of the British wine press. They also reminisced about a recently consumed 1979 Rothbury Director's Reserve Semillon, exchanged with winemaker David Lowe. It was a classic Hunter Semillon with lemony, citrus fruit character, toasty bottle development and a lovely, soft, mouth-filling palate. Although it drank beautifully, Keith thought it would be good for another ten years. Although aged Margaret River Semillons will display different characteristics from those produced in the Hunter Valley, they have the potential to make a similar impact on the Australian wine scene. Make no mistake, cellaring a Moss Wood wood-matured Semillon will give you an impressive and distinctive wine of character. The 1989 vintage would be a good one to experiment with laying down at least a few bottles.
[hr]
Vintage Notes
The rain which delayed the 1989 vintage caused botrytis in the Semillon, as well as the Chardonnay grapes, with the dry weather just before harvest turning the botrytis into noble rot. Where as the influence of botrytised grapes in the finished wine would have marred the Chardonnay, its impact (in small quantities) on the Semillon was beneficial – as it helped to concentrate some of the characters of the wine. In fact, only about two percent of the bunches used to produce the 1989 Moss Wood Semillon were affected by noble rot.
[hr]
Production Notes
The wine was cold-fermented in stainless steel tanks, in what has become traditional practice. It was then fined and filtered before two-thirds of the blend was placed in new, French oak for a period of twelve weeks. The wine was then blended and bottled.
[hr]
Cellaring Notes
This is a rich, full-bodied wine of great finesse which has the potential to develop with medium to long term cellaring