1991 Moss Wood Semillon Wood Matured
1991 Moss Wood Semillon Wood Matured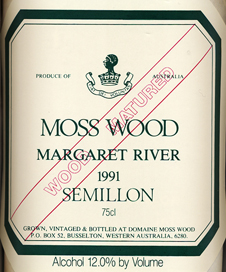 Wine Facts
| | |
| --- | --- |
| Harvested: | 25/3/1991 |
| Bottled: | 05/8/1991 |
| Released: | 05/9/1991 |
| Baume: | 11.90 |
| Alcohol: | 12.50% |
| Vintage Rating: | 6/10 |
---
Tasting Notes
The 1991 Moss Wood wood matured Semillon shows a complex array of aromas with hints of figs and grapefruit against a soft background of charred oak. There are also earthy overtones from the inclusion of solids during fermentation.
The wine is crisp and fresh with a good acid structure and some tannins on the finish. It has lifted citrus flavours, is supple and round with a long, lingering after-taste which features delicate charred oak characters. This is a rich, full-bodied wine of great finesse which has the potential to develop with medium to long term cellaring.
This is a more delicate wine than previous vintages and so we have emphasised its finesse by aging a smaller amount than usual in new oak (61% rather than 66% percent). In doing this, we hope we have ensured that the fruit character of the wine is complemented, rather than dominated by oak.
[hr]
Vintage Notes
The 1991 Moss Wood Semillon was the product of a long, dry growing season in which, unlike the previous vintage, little rain fell in January or February. There were some anxious moments with a few very hot days but, fortunately, these caused no damage to the grapes. The size of the harvest was one of the biggest ever, ten percent above average and yet the quality of the Semillon fruit was excellent.
[hr]
Production Notes
As has been the case in recent years, the crop has been picked in three stages (green, ripe and extra ripe) to produce a wine of greater complexity. Some solids were retained in juice prior to fermentation to enhance the character of the wine on the nose and to encourage an attractive mouth feel. Atypically, this year's Semillon received four weeks lees contact after fermentation to give it greater complexity.
Apart from that, vinification followed the usual pattern, with the fermentation occurring at 18 C and taking two weeks to complete. The wine was fined and filtered after the lees contact and then bottled, this year using the services of Mike and Jan Davies' Portavin, a high quality, mobile bottling service which is proving popular in the region.
[hr]
Cellaring Notes
It has excellent ageing potential.