1987 Moss Wood Semillon Wood Matured
1987 Moss Wood Semillon Wood Matured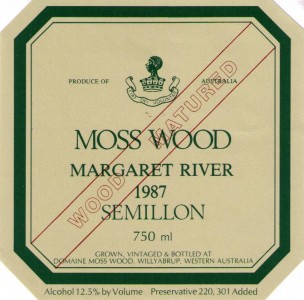 Wine Facts
| | |
| --- | --- |
| Harvested: | 8/3/1987 |
| Bottled: | 28/7/1987 |
| Released: | 9/9/1987 |
| Yield: | 13.50 t/ha |
| Baume: | 12.00 |
| Alcohol: | 12.50% |
| Vintage Rating: | 8/10 |
---
Tasting Notes
The 1987 Moss Wood Semillon has an outstanding, aromatic bouquet showing a depth of herbaceous fruit and a clean, fruity nose with traces of granny smith apples and grassiness on the bouquet. On the palate, it is fresh and crisp, has good weight, soft acid and a pleasing aftertaste. The wine has excellent structure, is well-balanced and has attractive fruit. It will be hard to resist over the summer months. Keith Mugford believes that the 1987 vintage will be noted for its excellent fruit perfumes, with all the Moss Wood wines showing wonderful freshness and lively fruit characters. The colour of each of the wines is particularly good with more density than Moss Wood has ever produced.
[hr]
Vintage Notes
The growing season was dry throughout, with the rains finishing at the end of November. However, because of the good winter rainfall in 1986, the soil moisture was sufficient for the vines to carry the crop.
The semillon was picked on time in early March and the good season meant that the acids and beaumes were excellent and the resulting wine well-balanced. The dry summer was of benefit to the semillon because it can easily split after summer rains, leading to worrying problems with rot.