1986 Moss Wood Semillon Wood Matured
1986 Moss Wood Semillon Wood Matured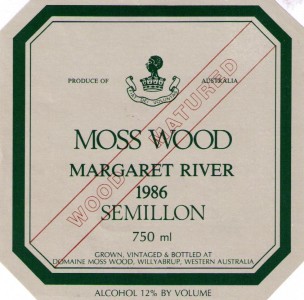 Wine Facts
| | |
| --- | --- |
| Harvested: | 27/2/1986 |
| Bottled: | 16/7/1986 |
| Released: | 20/9/1986 |
| Yield: | 9.10 t/ha |
| Baume: | 12.40 |
| Alcohol: | 12.00% |
| Vintage Rating: | 7/10 |
---
Tasting Notes
There is a very neat comparison between the vintages of 1986 and 1984, with a common thread of style running between them.
The nose shows good fruit aroma consisting of figs and honey, with a background of herbaceous characters, associated with Granny Smith apples and newly-mown hay. The palate displays a similar fruit flavour, which fills the mouth, making the wine almost sweet. It is, however, absolutely "dry" with a fresh, cleansing acidity and soft tannin finish. The 1986 benefits from better acidity and livelier fruit character than 1984, but has a broader, sweeter fruit structure than 1985.
Review– In the Tuesday 5th August edition of the Melbourne "Age", the regular tasting panel reviewed the 1984 Moss Wood Semillon. The comments were all quite favourable so we were very pleased. Most of the panellists commented that the wine had genuine fruit flavour and that the oak was well balanced and integrated. One felt that she liked the wine but there was just a touch too much wood influence for her palate. This is all very interesting but the problem is that the wine has never been near an oak cask. The closest it came was when new barrels for the Cabernet were unloaded from the truck outside the winery! This is not intended to mock those who made the comments but merely to highlight just how much flavour and complexity Semillon can develop and our experience has always been that the wine will repay good cellaring.
[hr]
Cellaring Notes
We recommend the wine for short term drinking but encourage those of you with the facilities to cellar it for a period of up to 7 years, to see it reach it's full potential.