1988 Moss Wood Semillon Wood Matured
1988 Moss Wood Semillon Wood Matured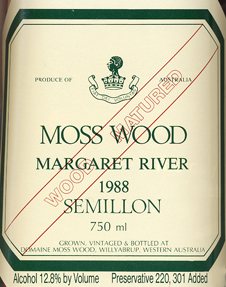 Wine Facts
| | |
| --- | --- |
| Harvested: | 17/2/1988 |
| Bottled: | 23/8/1988 |
| Released: | 10/10/1988 |
| Baume: | 12.10 |
| Alcohol: | 12.50% |
| Vintage Rating: | 7/10 |
---
Tasting Notes
Many consumers have come to enjoy the influence of wood in their white wines as a result of the oak treatment of Chardonnay. In response to this demand, the Moss Wood wood matured Semillon has been produced since 1982.
The experience at Moss Wood has been that the oak influence has not detracted from the Semillon fruit, rather it has created a distinctive wine. The herbaceous characters so typical of this variety in the region are more subdued on the wood matured Semillon than on its unwooded twin while the wood matured wine tends to be sweeter with greater length on the palate.
Keith sees the 1988 Moss Wood wood matured Semillon as typical of the style which has evolved at the winery. It has lively, fruit characters, a touch of grassiness with the oak aromas dominating the nose at present. The palate has good acidity and fresh, rich flavours reminiscent of apples, lemons and other citrus fruits as well as traces of honey from the wood aged treatment. The wine is clean and, in Keith's view, less tannic than the 1986 or 1987 wood matured Semillons.
[hr]
Vintage Notes
The yield for Semillon was down by about 20% on the bumper crop of 1987, but the wine is quite herbaceous reminiscent of the 1985 Semillon.
[hr]
Production Notes
It was fermented in stainless steel and aged for fourteen weeks in barrel. Two-thirds of this Wood Matured Semillon was ages in new oak with the other one-third being kept in stainless steel as fresh material for back blending to give the wine lift.