1992 Moss Wood Semillon Wood Matured
1992 Moss Wood Semillon Wood Matured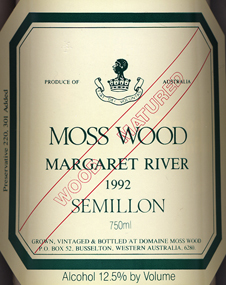 Wine Facts
| | |
| --- | --- |
| Harvested: | 06/3/1992 |
| Bottled: | 04/8/1992 |
| Released: | 31/8/1992 |
| Baume: | 12.90 |
| Alcohol: | 14.00% |
| Vintage Rating: |  8/10 |
---
Tasting Notes
On the nose, the 1992 Moss Wood Wood Matured Semillon has ripe honeyed characters with touches of figs, apples, grapefruit and spicy oak. The palate has lifted, herbaceous fruit, is lively and crisp with good acidity and a lightly tannic finish. It is well-balanced, mouth-filling and has a long, dry finish.  Due to the fullness and weight and to give the wine greater complexity, it was aged in oak for five and a half months rather than the more usual three or four months.
[hr]
Vintage Notes
The growing season for the 1992 Semillon was excellent with minimal rainfall during the mild summer and perfect weather in the two weeks prior to vintage to ripen the grapes quickly. The Semillon was picked in three stages: one third of the crop was picked in early March, and the second third was picked after a wait of one week. Two inches of rain followed in two weeks and so there was a wait of three weeks while the grapes recovered from the rain. In the second week in April, the final third of the crop was picked. Some of this had been infected by botrytis which improved its concentration.
[hr]
Production Notes
For the first time, the Moss Wood Semillon was given eight weeks lees contact during fermentation as we wanted to fill out the bouquet and enhance the wine's mouthfeel. We blended in all pressings to give this wine greater fullness of body and a good tannin structure.
[hr]
Cellaring Notes
This wine can be drunk early for its freshness and persistent flavours or cellared for at least ten years to highlight the rich, toasty, developed, honeyed character of aged Semillon.