Moss Wood Ribbon Vale Vineyard 2002 Cabernet Merlot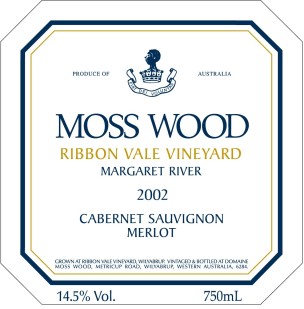 Wine Facts
Blend: Cabernet Sauvignon 59%, Merlot 31%, Cab Franc 10%
| | |
| --- | --- |
| Harvested: | 18/3/2002 |
| Bottled: | 19/1/2004 |
| Released: | 2/5/2004 |
| Alcohol: | 14.50% |
| | |
| | |
SOLD OUT
eRobertParker.com Wine Advocate #155 October 2004 - Lisa Perrotti-Brown
---
Tasting Notes
The Moss Wood 2002 Ribbon Vale Vineyard Cabernet Sauvignon Merlot is a big step up from the previous wines released under this label. It has voluminous red plummy aromas with hints of cedary oak, ripe cassis, plum and mulberry flavour with powerful dusty oak and some earthy characters and firm, fine, ripe tannins that linger.
Of the two wines, Keith's preference is for the Cabernet Merlot which he sees as having redcurrant, mulberry and cedary flavours with some toned-down minty eucalyptus notes. There is charry oak on the nose and the finish and the tannins are reasonably fine and firm. The wine is supple (something which he hasn't seen in previous vintages) and has good length. It's much more in the style of a Moss Wood wine than before but still retains it's individual vineyard stamp.
This is a robust, full-flavoured red with impressive richness and concentration, a firm structure and a pleasing grip to finish.
Review: WINESTATE September/October 2004 Four Star Rating - fresh, fragrant aroma with lovely oak spice and restrained fruit characters. Tightly focused and savoury in style, with complex layered flavours and an abundance of mellow tannins.
Review: 100 Top New Release Wines by Huon Hooke from Gourmet Traveller Wine - Summer 2004 93 ***** Beautiful ripe cabernet aromas, with good background oak. Lovely intensity of focused dark-berry flavours in the mouth; elegant and stylish. A definitive, classic regional cabernet style. Good drinking now or in the next 10 years.
Review: Adelaide Advertiser "Drinking - Intensely cool", 9 April 2005. Robert Johnson, of Robert Johnson Vineyards in the Eden Valley, visited Margaret River in January 2005. Colour: Great depth, with dense red-crimson tints. Nose: Violets, perfume, spice and complex fruit characters of rhubarb, cassis, blackberry, licorice, with dark chocolate, spice and walnut providing even more complexity. Taste: Beautifully sweet blueberry fruit with the merest hint of dried prune on the palate, with attractive fine silky tannins and nicely judged extraction. Supple, lingering flavour that cries out for pink spring lamb. Smart wine with attractive drinkability now, or those with the virtue of patience can keep it quite happily for eight to ten years. 90 points
[hr]
Vintage Notes
There is a paradox involved in the 2002 reds from Moss Wood's Ribbon Vale vineyard. Although the mild 2002 vintage was not a great one for Margaret River reds, it did produce better red wines at Ribbon Vale than those which came from the, widely accepted as outstanding, 2001 vintage.
This is the third year that Moss Wood has harvested Ribbon Vale fruit (following the purchase of the vineyard in early 2000). For the two years leading up to the 2002 vintage, the Moss Wood team has had responsibility for the Ribbon Vale vineyard and they have learnt a great deal about managing this particular site. Trellising has been the key to improving the ripeness of the tannins in the Ribbon Vale reds and to finding better tannin balance. Merlot tends to overcrop easily and so identifying appropriate yields and making sure that these are not exceeded has been important in ensuring that the reds do not lack concentration.
[hr]
Production Notes
The other key to improving the Ribbon Vale reds has been the knowledge gained in the winery about how to minimise the extraction of aggressive tannins. The fermentation process takes place in closed tanks, where it is usual (and easier) to pump over to extract colour and flavour including tannin. Most of the extraction occurs using the much gentler (but more demanding of time and labour) hand plunging.
Each grape variety was kept separate for the first nine months of barrel ageing: a third in new French oak, the remainder in one and two year old barriques (50:50). The wine was racked from barrel into tanks (still as separate varieties) and bench trials conducted to determine the composition of the blend. After that the wine was blended and then returned to oak for another year's maturation. Before bottling, bench trials determine whether the wine will be fined. In this case, it was not considered necessary.
Seventy per cent of the wine was bottled under screw caps.
In 2002, this was a blend of cabernet sauvignon (59%), merlot (31%) and cabernet franc (10%). Each variety is fermented separately according to the traditional Moss Wood approach, although in closed rather than open tanks. The grapes were destemmed, transferred by conveyer belt into tanks where fermentation was triggered by pure yeast culture at warm temperatures - up to 32° Celsius. Each batch was left on skins after fermentation for between ten and fourteen days, depending on taste. This stage was considered crucial for the Ribbon Vale reds in order that their tannins not be over-extracted. The wine was then pressed and racked into barrels. Time line: April 2002 into barrel Nov. 2002 blending trials, racked and assembled Nov. 2003 racked into tank Jan. 2004 bottled
[hr]
Cellaring Notes
The cellaring potential should be approximately seven to ten years.