Moss Wood Ribbon Vale Vineyard 2007 Cabernet Merlot
Moss Wood Ribbon Vale Vineyard 2007 Cabernet Merlot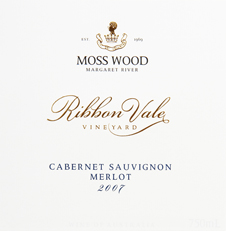 Wine Facts
Blend: Cabernet Sauvignon 65%, Merlot 30%, Cab Franc 5%
| | |
| --- | --- |
| Harvested: | 26/2/2007 |
| Bottled: | 2/2/2009 |
| Released: | 30/3/2009 |
| Alcohol: | 14.00% |
| Vintage Rating: | 9/10 |
| | |
| | |
SOLD OUT
---
Tasting Notes
Colour and condition: Very deep brick red, in bright condition.
Nose: a good example of the generous ripe fruits of the 2007 vintage, with a powerful and lifted combination of dark fruits like mulberry, red currant and blueberry. There are also the typical Ribbon Vale leather and earth notes, plus additional complexity from sealing wax and camphor. Oak characters are very restrained and give a light tarry background.
Palate: full bodied with ripe fruit flavours of mulberry and black currant, giving a generous front and mid palate. There are long flavours which fit neatly with firm but ripened tannins, giving smooth texture and then finishing with spicy and charry oak flavours.
Moss Wood Ribbon Vale 2007 Cabernet Merlot – Neal Martin, Wine Advocate Robert Parker
[hr]
Vintage Notes
The 2006-2007 growing season was one where things happened quickly. Conditions during Spring were relatively warm and dry, quite atypical for Margaret River, so flowering was over for most varieties in little more than a week. This theme of good vintage conditions continued throughout and we anticipated a slightly earlier-than-average harvest. However, conditions warmed through January and reached a peak by the Australia Day Holiday when the temperature reached 40 degrees. This, along with two additional, though slightly less savage, heat spikes brought all the grapes rapidly through to full ripeness and produced our earliest vintage on record.
The impact on the different varieties was varied. Cabernet Sauvignon has an average harvest date of 31st March but in 2007 was picked on 12th March, 19 days early. The actual length of the season from flowering to harvest was 113 days, compared to an average of 123 days. Merlot, with an average harvest date of 19th March was picked 7 days earlier on 12th March. Its actual season length was 112 days, compared to the average of 116 days. Cabernet Franc, with an average harvest date of 19th March, in 2007, was picked on 25th February, 22 days early. The actual season length was 110 days, compared to an average of 121 days.
Grape condition was excellent, with no disease and no damage from bird attack, although without nets the losses from this would have been quite high. The silvereyes were hungry enough to try dive bombing the nets in an effort to get to the grapes.
Yields were slightly below average, across all varieties. Cabernet Sauvignon has a long term yield of 7.95 tonnes per hectare (t/ha) but in 2007 it was 7.36 t/ha (7% loss). Merlot was somewhat more dramatic, declining from its long term average of 9.21 t/ha to 7.34 t/ha (20%) and likewise Cabernet Franc, which produced 7.33 t/ha, compared to 10.35 t/ha (29%).
At Moss Wood and this is probably true for most companies, yield forecasts and their accuracy are seen as a personal and professional challenge. Perhaps this is a sad reflection of the small things that amuse small viticultural minds but in the context of wine quality, it is worthy of further discussion. In essence, the process is simple. As the season nears flowering the vineyard is sampled to get an estimate of the number of bunches per vine. Once it's completed, an estimate of the bunch weight is made based on the conditions that prevailed – good conditions mean heavier bunches. The two are combined to give a likely yield figure. Readers will note this uses some science and lots of art and hence the challenge. However, it is important for planning, like ordering new barrels and it's also valuable in influencing final quality in some varieties where we set a maximum yield.
In 2007, Cabernet Sauvignon bunches weighed 138 grams compared with the average of 139 grams and Cabernet Franc was close to the mean of 143 grams with its 2007 weight of 145.
Our two blocks of Merlot give quite different results. The West Block has always produced higher yields and in 2007 its bunch weights were close to average – 166 grams compared with 161. The East Block, which has more difficult flowering conditions because of its more exposed southerly aspect, produced a bunch weight of 150 grams, well above its average of 120. For those interested in the smaller details of viticulture, we have been experimenting with controlled additions of the trace element Molybdenum, deficiencies of which are responsible for poor flowering. Perhaps the treatment may be working. It should be noted that our intent is not to increase the Merlot yield but rather make it more consistent by minimising the dramatic reductions when bunchweights fall to as low as 100 grams. When this occurs, we can also have problems with inconsistent ripening, so both quantity and quality can be compromised.
However, Merlot is a contrary beast. Regardless of its flowering difficulties, in good seasons it can give prodigious yields, as it did in 2000, at 14.6 t/ha. Unfortunately, and this is a characteristic shared in common with Pinot Noir, above a certain yield wine quality diminishes, with dilution of colour and flavour, regardless of how well the vineyard is maintained. We have decided that 9 t/ha is the Merlot ceiling to aim for and if our estimates exceed this, the bunches are thinned once the berries have reached maximum size.
Hence the contrariness of Merlot – we need to increase yield in some instances and then reduce it in others. Let's say it's the Goldilocks of grapes and the porridge has to be just right!
Returning to the original point of the yields, although the bunch weights were all close to average, the likely cause of the low crops was reduced bunch numbers. In turn, this is probably a reflection of the very low temperatures during the 2005-06 growing season which caused fewer bunches to form in the buds.
Regardless of these discussions about influences on grape quality and quantity, the summary is 2007 was a good growing season. Although slightly warmer than usual, it produced near-perfect grapes, with fruit flavours and tannins fully ripened and provided the basis for a very fine vintage. It was up to the winemaking team to turn these into good wine, with no excuses if they weren't successful!
[hr]
Production Notes
Median Harvest Dates and Ripeness:
Merlot – 27th February 2007, 12.9 Be
Cabernet Franc – 25th February 2007, 13.1 Be
Cabernet Sauvignon – 5th March 2007, 13.7 Be
Looking back over the vineyard's history, the best red wines from Ribbon Vale have been blends and in our planning for each vintage, we work on the assumption that this will continue to be the case. However, the winemaking plan for each variety does not involve making each one with an eye to how it will blend with the others. Rather, the intent is to make the best possible individual wines from Cabernet Sauvignon, Merlot and Cabernet Franc. Once each is finished, the tasting trials are carried out to determine the best blends for that vintage.
One of the very interesting parts of a winemaker's job is to go through this process and decide on the best combinations. It is more art than science because the chemistry and microbiology are all but finished by this point and so it all comes down to taste. Of course, this can add uncertainty, some would say interest or intrigue, to the wine style because there will be small variations in the blend from one year to the next, depending on how each variety performed.
In the initial stages, the production techniques were the same for each variety. The fruit was hand picked and then de-stemmed into small, open fermenters. Fermentation was then induced with a pure yeast culture and each batch was hand plunged up to four times per day to ensure good extraction of colour and flavour. Temperature was controlled to a maximum of 30C and each batch is tested and tasted at least once per day.
As fermentation finishes, the treatment of the varieties begins to vary. The daily tasting is used to monitor for the best balance of flavour and tannin. When an individual batch achieves the right combination it is drained and pressed. Since this is done according to taste, the length of time on skins can be different. In 2007 Cabernet Sauvignon spent 21 days on skins, Merlot 9 days and Cabernet Franc 8 days. In general, the Ribbon Vale vineyard produces wines with quite dominant tannins in all the red varieties and we work hard in both the vineyard and the winery to keep these in balance. Good sunlight exposure for the grapes and then gentle extraction during fermentation seem to be the keys.
After pressing each variety was settled and then racked to barrel. Merlot went into oak on 16th March 2007, Cabernet Franc on 17th March and Cabernet Sauvignon on 13th April. The barrels were all French barriques and 35% were new. On 26th November each variety was racked to stainless steel and the blending trials were carried out. The final combinations were: Cabernet Merlot –
59% Cabernet Sauvignon
36% Merlot
5% Cabernet Franc
The completed blends were then racked back to oak where they stayed until 19th January 2009. The Merlot blend accumulated 22 months in oak and the Cabernet Merlot blend approximately 21 months. They were then racked to stainless steel and fining trials were carried out although in the end, we chose not to fine either wine. Both wines were then sterile filtered and Merlot was bottled on 2nd February 2009 and the Cabernet Merlot was bottled on 3rd February.
[hr]
Cellaring Notes
When vintage conditions are so good, we expect to make wine with good fruit intensity and chemistry and 2007 is no exception. Over the next five years, the wine should display the benefit of these conditions with a predominance of ripe fruit characters and should provide reasonable drinking as a youngster. However, we believe that its best years will be beyond that and it should begin to show complex bottle bouquet once it passes 10 years of age, reaching a peak between 15 and 20 years old.