Moss Wood Ribbon Vale Vineyard 2004 Cabernet Merlot
Moss Wood Ribbon Vale Vineyard 2004 Cabernet Merlot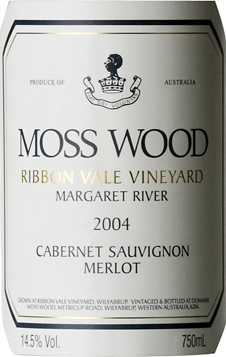 Wine Facts
Blend: Cabernet Sauvignon 53%, Merlot 37%, Cabernet Franc
| | |
| --- | --- |
| Harvested: | 21/3/2004 |
| Bottled: | 22/2/2006 |
| Released: | 25/5/2006 |
| Yield: | 10.00 t/ha |
| Baume: | 13.60 |
| Alcohol: | 14.50% |
| | |
SOLD OUT
---
Tasting Notes
Keith describes the wine as having a deep brick red colour, an intriguing nose with a complex array of aromas – violets, blackberry and tar, with hints of mulberry, blackcurrant and charry oak. The palate shows rich ripe dark berry fruits – blackberry and mulberry – and is generous and long with a mouthfilling texture and a firm, though not aggressive, astringency. This marks a huge leap forward for Ribbon Vale.
The 2004 Cabernet Merlot is fragrant with gentle power and succulence; opulent cassis flavours with a hint of vanilla and coffee bean; deep velvety (almost lush) texture and fine ripe tannins that linger. We recommend cellaring this wine for a minimum of ten years.
[hr]
Vintage Notes
Last year we commented that the Ribbon Vale vineyard had been revitalised in slightly less time than the five years that most commentators had expected, as evidenced by a significant leap in quality with the 2003 vintage. However, those same commentators will, no doubt, be chuckling with the improvement that is evident in the 2004 reds. Perhaps the vineyard really did need five years before it showed at its best!
The 2004 vintage was a delightfully average growing season until it was complicated by a heat spike in mid-March, with two days in a row over 40°C. As a consequence, the cabernet sauvignon grapes ripened very quickly at the end causing Keith to wonder if this might have been the vintage that got away. He is certainly convinced that if Margaret River had had its traditional Indian summer, it would have challenged for the best vintage ever. The worry at the time was that sugar ripening would occur without flavour ripeness. While elsewhere in the newsletter we have cautioned against excess ripeness, the possibility of slightly under-ripe cabernet sauvignon from Ribbon Vale is always a concern because of the harsh green tannins. Consequently, in 2004 we were sensitive about picking before the grapes were fully ripe.
The merlot was picked in the mild part of the season, before the heat spike, although we were just as sensitive about a minimum level of ripeness with this variety as well. The Moss Wood team hate the muddy notes that can be found with green merlot, not to mention the impact of under-ripe merlot on the palate and on the finish, where it can be thin and tannic. We were determined to avoid these problems as well.
[hr]
Production Notes
The merlot and cabernet sauvignon were fermented and then aged in barrel separately and blended after 12 months. A combination of open and closed fermenters were used because the winery can occasionally exhaust its open fermentation capacity. We believe the open tanks allow for cleaner fermentations and encourage softer tannin extraction. To emulate softer tannin extraction, hand plunging is still carried out on the closed tanks, although this can be quite challenging because the narrow lids were never designed for this type of work. It can often lead to very colourful language!
A key to the improvement of the Ribbon Vale reds is that we now have a better understanding of how the tannins develop during skin contact post-fermentation. With careful tasting, the team is now able to recognise the right balance between fruit flavours and tannin and the correct time to press is more clearly understood.
One other factor which will impact on the quality of the Ribbon Vale reds has been more specialised barrel purchases for the vineyard. At Ian Bell's instigation, barrel choice has become more focused so that the differences between the Moss Wood and Ribbon Vale vineyards are taken into account. Trials have begun to investigate the long term development of individual batches of wine matched to different barrel types.
[hr]
Cellaring Notes
We recommend cellaring this wine for a minimum of ten years.