Moss Wood Ribbon Vale Vineyard 2012 Cabernet Merlot
Moss Wood Ribbon Vale Vineyard 2012 Cabernet Merlot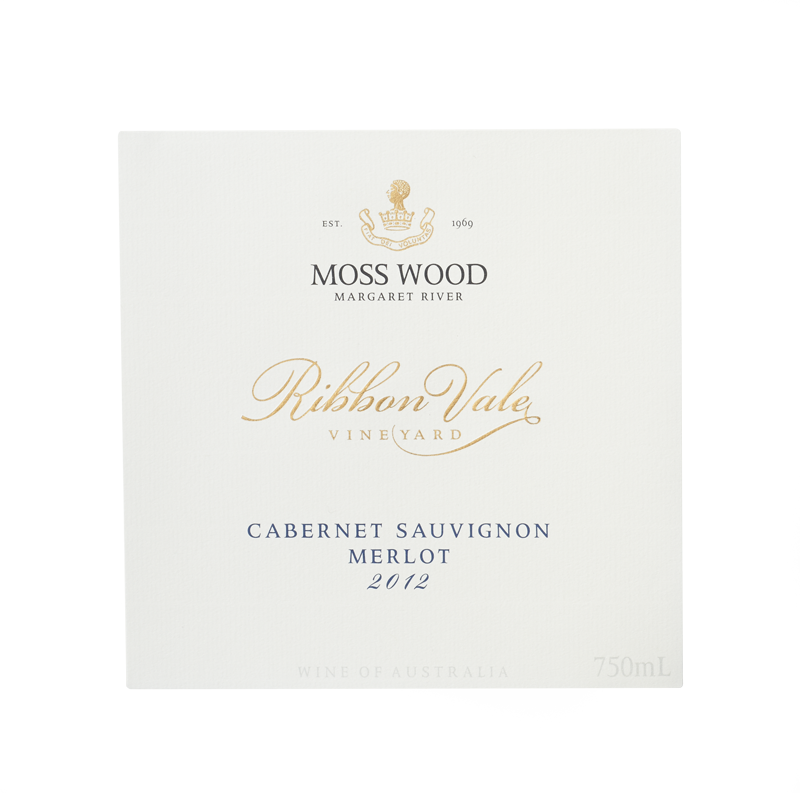 Wine Facts
Harvested:
Cabernet Sauvignon – 17th March, 2012
Merlot – 8th March, 2012
Cabernet Franc – 8th March, 2012
Bottled:
12/08/2014
Released:
20/11/2014
Yield:
Cabernet Sauvignon 9.12 t/ha
Baume:
Cabernet Sauvignon – 13.5⁰ Baume
Merlot – 13.7⁰ Baume
Cabernet Franc – 13.5⁰ Baume
Alcohol:
14.00%
Vintage Rating:
09/10
SOLD OUT
Tasting Notes
Colour and condition: Very deep brick red hue; bright condition.
Nose: Cabernet Sauvignon-based wines never lack for complexity and this wine has it in spades.  Their fruit aromas are a combination red currants and mulberries backed up with cedar, tobacco, leather and tar.  Also, from a vineyard renowned for its masculine, slightly brooding demeanour, this is a slight change, with a generosity and friendliness not often seen in young Ribbon Vales.
Palate: This theme continues on the palate, where we see a balance and generosity not often found with this vineyard.  The red currant and mulberry flavours are generous and long, filling the mouth.  The wine has full body, with concentrated and supple tannins giving the wine a long and well balanced finish.  This is a slightly cooler vineyard than Moss Wood and it seems that extra warmth in 2012 has really suited it.
Vintage Notes
The warm conditions meant the length of the flowering to harvest growing season was slightly shorter.  Cabernet Sauvignon was 6 days early at 113 days; Merlot was only one day early, at 115; and Cabernet Franc was 2 days early, at 117.
Naturally, ripeness was good for all 3 varieties.  Cabernet Sauvignon was harvested at its average of 13.6⁰ Baume; Merlot was slightly riper than average at 13.7⁰; and Cabernet Franc almost average at 13.3⁰.
Yields were also good, with Cabernet Sauvignon the leader, producing 9.12 tonnes per hectare, 19% above average.
Finally, there were no negative quality influences, with the birds kept under control with the application of the nets and our fungicide spray program was successful in preventing disease.
Production Notes
Median Harvest Dates:
Cabernet Sauvignon – 17th March, 2012
Merlot – 8th March, 2012
Cabernet Franc – 8th March, 2012
Harvest Ripeness:
Cabernet Sauvignon – 13.5⁰ Baume
Merlot – 13.7⁰ Baume
Cabernet Franc – 13.5⁰ Baume
All the fruit was hand picked and destemmed into small, open fermenters.  Each batch was seeded with a pure yeast culture and was allowed to ferment at up to 28⁰C.  Colour and flavour were extracted by hand plunging 3 times per day.  After approximately 2 weeks on skins each batch was pressed to stainless steel tanks for malolactic fermentation and after completion, racked to oak.  All barrels were 225 litre French oak and 10% were new.
In December 2013, the final blends were prepared.  The Cabernet Sauvignon Merlot is a blend of 63% Cabernet Sauvignon, 33% Merlot and 4% Cabernet Franc.
After blending the wines were returned to barrel, where they remained until July 2014, at which point they were racked to stainless steel and prepared for bottling.  Fining trials were carried out and the Cabernet Sauvignon Merlot was not fined.
The wine was then sterile filtered and bottled on 12th August 2014.
Cellaring Notes
With this balance and concentration, it will be a long-lived wine.  For those who like their Cabernets with lots of complexity, it will take at least 15 years to develop a reasonable level of bottle bouquet.  After that it will be anybody's guess but 30 years cellaring will be easily achieved for those with the patience.