Moss Wood Ribbon Vale Vineyard 2001 Cabernet Merlot
Moss Wood Ribbon Vale Vineyard 2001 Cabernet Merlot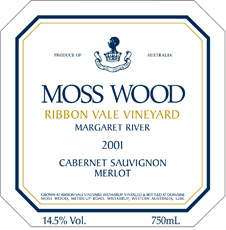 Wine Facts
Blend: Cabernet Sauvignon 60%, Merlot 30%, Cabernet Franc
| | |
| --- | --- |
| Harvested: | 26/3/2001 |
| Bottled: | 6/2/2003 |
| Released: | 18/6/2003 |
| Baume | 14.00 |
| Alcohol: | 14.50% |
| | |
| | |
SOLD OUT
---
Tasting Notes
The Moss Wood 2001 Ribbon Vale Vineyard Cabernet Merlot is plum red and very dark and opaque in colour. It has a dusty sweet cherry musk nose, well integrated with attractive perfumed oak, tinged with some lavender and herbaceous notes and some fruit jube and liquorice aromas. The palate is rich and chocolaty sliding slowly away with silky, savoury lingering flavours. The tannins are grippy and wrapped in fleshy, lychees and star fruit flavours.
Review: Winefront Monthly – Edition 15 August 2003 Moss Wood Ribbon Vale Vineyard Margaret River Cabernet Sauvignon Merlot 2001 There's complex cedary oak here which, combining beautifully sweet Promite-like exotics, lifts the value of the pure swoon of blackcurrant flavour to a silken, seductive level. This is a delicious Margaret River cabernet merlot that, despite the prescence of toffee-candy warmth on the finish, is drinking gorgeously now and will get even better over the medium term. Buy up – this wine, from this vintage, is one of the best value Margaret River cabernets on the market, with a terrifcally fine matt of tannin and a classy, outstanding extension through the mouth. Drink: Now-2010. 92 points
[hr]
Vintage Notes
As for the Moss Wood vineyard, 2001 was an excellent growing season, with the same very positive impact. The crucial influences were the man-made ones of improved trellising and a better understanding of what makes the Ribbon Vale vineyard tick. There are several things that are interesting to consider.
With the Cabernet Sauvignon, the initial changes to the vineyard appear to be having some impact because the wine displays riper softer tannins, although we still had progress to make. We also felt that in our endeavours to improve flavour and tannin ripeness in the 2000 vintage we had gone too far and so we reduced the picking Beaume. The yields also fell to 7.51 tonnes per hectare, although this is not necessarily a beneficial step in Cabernet Sauvignon.
The changes with the Merlot were probably more dramatic. In the first instance, we were determined not to repeat the excessive yields of 2000 and the crop was thinned to 10.79 tonnes per hectare. There is no doubt in our mind that Merlot shares much in common with Pinot Noir, in that it is very sensitive to climatic and managerial influences. In both cases, a high crop level will lead to dilution of all features, no matter how good the trellis system.
Secondly, the improvements in shoot positioning, though only partially complete, had begun to show their worth, with better fruit exposure leading to much better colour and flavour.
At the winery, it was generally agreed that, for the first time, both the Ribbon Vale reds were beginning to show some Moss Wood influence.
[hr]
Cellaring Notes
Should cellar easily for 7-10 years and reward the effort with a luscious wine.