Moss Wood Ribbon Vale Vineyard 2009 Cabernet Merlot
Moss Wood Ribbon Vale Vineyard 2009 Cabernet Merlot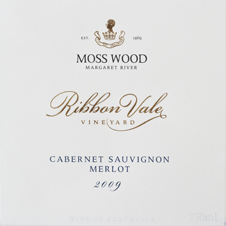 Wine Facts
| | |
| --- | --- |
| Harvested: | 29/3/2009 |
| Bottled: | 1/7/2011 |
| Released: | 30/8/2011 |
| Yield: | 6.04 t/ha |
| Baume: | 13.40 |
| Alcohol: | 14.00% |
| Vintage Rating: | 10/10 |
SOLD OUT
---
Tasting Notes
Colour and condition:Deep brick red, in bright condition.Nose:
Complex. It combines primary fruits of red currant, briar and toffee apple with a background of cedar, leather and earth.
Palate:
There are initial generous, red fruit flavours across the front and mid palate; cedar, charry and spicy notes on the finish; tannins are firm but balanced and leave the wine with a long smooth finish.
Moss Wood Ribbon Vale 2009 Cabernet Merlot – Neal Martin, Wine Advocate Robert Parker
[hr]
Vintage Notes
In the Moss Wood viticultural history, there has never been a run of 4 great years, such as we have had from 2008 to 2011. The level of quality has provided an embarrassment of riches, but interestingly enough, while all are of a high standard, each one has its own individual style. Of the foursome, the one to capture the purist's attention is the 2009.
As with all of them, Mother Nature provided just about everything a non-irrigated vineyard could need. Sufficient rainfall during the Spring and Autumn to ensure at least moderate growth and yield, and plenty of warm but not hot days, to provide consistent ripening.
It must be said the Spring had its ups and downs with some bouts of heavy rain and occasional hail. This is reflected in the yields, which were lower than expected – Cabernet Sauvignon cropped at 6.04 tonnes per hectare, down by 22%; Merlot yielded 7.74 tonnes per hectare, down by 11%; Cabernet Franc produced 6.80 tonnes per hectare, down by 26%. We weren't surprised when a check of bunch weights revealed these were down across the 3 varieties. Grapevines are resilient against many things but hail is not one of them. These cooler conditions were also reflected in later than average flowering dates; although across the 3 varieties the delay was only small, with Merlot the latest at 6 days.
As with all things viticultural, the Summer conditions, described above, produced differing ripening results across the varieties. Cabernet Sauvignon was picked on 29th March, which is one day earlier than average and it had taken 117 days to go from flowering to harvest, 3 days faster than average. The median harvest date for Merlot was 28th March but this was 10 days later than average and the period from flowering to harvest was 121 days, 4 days longer than average. Cabernet Franc was picked 4 days earlier than average, on 10th March and its period from flowering to harvest was 111 days, one week faster than usual. For Cabernet Sauvignon and Cabernet Franc, the consistent warmth of the summer and small crop allowed them catch up but Merlot being Merlot; it did the opposite and slowed during ripening. Having been the slowest to flower, it then didn't make up any time over the Summer. Perhaps its relatively larger crop was a factor.
Despite these nuances of the season, all varieties reached full ripeness for sugar, flavours and tannins. The consistent warmth but with an absence of extreme heat spikes, meant they all made steady progress and we had time to watch and wait and, hopefully, take each one at optimum maturity. For completeness sake, the picking ripeness of Cabernet Sauvignon was 13.4° Baume, very slightly behind its average of 13.6. Merlot came in at exactly average, at 13.2° Baume and Cabernet Franc finished at 12.6° Baume, quite a bit earlier than its average of 13.5. It can be seen from this last figure and the discussion above, about time elapsed from flowering to harvest, there was something about 2009 that promoted good early flavours in the Cabernet Franc compared to other years.
[hr]
Production Notes
Median Harvest Dates: Cabernet Sauvignon – 29th March, 2009 Merlot – 28th March, 2009 Cabernet Franc – 10th March, 2009
Harvest Ripeness: Cabernet Sauvignon – 13.4° Baume Merlot – 13.1° Baume Cabernet Franc – 13.2° Baume
As with all our wines, the fruit was hand-picked. It was then delivered to the winery and destemmed into small, open, stainless steel fermenters. Fermentations were initiated using pure yeast cultures and then monitored and maintained at a maximum temperature of 28°C. All batches were hand plunged up to four times per day and was tasted daily to confirm tannin balance. The timing of pressing followed our usual policy of leaving each batch on skins until the best balance had been achieved. With Cabernet Sauvignon this was 20 days, for Merlot, 14 days and for Cabernet Franc, 11 days.
Once pressed, each wine was allowed to settle for a week and was then racked into barrel. After malolactic fermentation took place the wines were racked backed to stainless steel tanks, adjusted for acidity then returned to barrel, where they stayed until October 2009.
At this stage, a series of tasting trials were done to decide on the best blend for the two "finished" wines. The Cabernet Sauvignon Merlot combination looked best with 59% Cabernet Sauvignon, 33% Merlot and 8% Cabernet Franc. The Merlot looked best with 95% Merlot and 5% Cabernet Franc. These two blends were prepared and the wines were racked to barrel. All the barrels were French oak and for the Cabernet Sauvignon Merlot, 38% were new and for the Merlot, 35% were new.
In May 2011 both blends were racked from barrel to be prepared for bottling. In all, they had spent 25 months in oak. Fining trials were carried out and tasted and it was decided to fine the Cabernet Sauvignon Merlot with skim milk and the Merlot with egg whites. The wines were then fined, filtered and finally bottled on 1st July, 2011.
[hr]
Cellaring Notes
This is a wine with appealing young fruit flavours and is relatively enjoyable now. However, it has the fruit depth and tannin structure to age successfully and compares very favourably, in terms of style, with 2001 vintage which at 10 years of age is still very youthful and only just beginning to show some bottle bouquet. On this basis, we would recommend cellaring the 2009 for at least 10 years but suggest that it will need to be at least 15 years old before it will show full bottle development.