Moss Wood Ribbon Vale Vineyard 2001 Merlot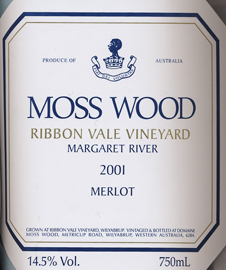 Wine Facts
| | |
| --- | --- |
| Harvested: | 21/3/2001 |
| Bottled: | 7/2/2003 |
| Released: | 17/6/2003 |
| Alcohol: | 14.00% |
| | |
| | |
| | |
SOLD OUT
---
Tasting Notes
The Moss Wood 2001 Ribbon Vale Vineyard Merlot is deep ruby, plum red in colour and is translucent, clear and bright.  The bouquet shows rich aromas of Amaretto, black liqueur cherries, coffee grounds and chocolate. The palate is silky smooth, displaying ripe tannins, well married oak and flavours of chocolate, plum and blackberries and lingering sweet fruit reminiscent of cherry liquor chocolates.
Reviews: Sydney International Wine Competition awarded the Moss Wood Ribbon Vale 2001 Merlot a winner of the 2004 Blue Gold Medal, (judged with food) in the lighter bodied dry red wine category.
Moss Wood Ribbon Vale 2001 Merlot - Winefront 15th August 2003 Ed.
Vintage Notes
As for the Moss Wood vineyard, 2001 was an excellent growing season, with the same very positive impact.  The crucial influences were the man-made ones of improved trellising and a better understanding of what makes the Ribbon Vale vineyard tick.
Changes with the Merlot were quite dramatic.  In the first instance, we were determined not to repeat the excessive yields of 2000 and the crop was thinned to 10.79 tonnes per hectare.  There is no doubt in our mind that Merlot shares much in common with Pinot Noir, in that it is very sensitive to climatic and managerial influences.  In both cases, a high crop level will lead to dilution of all features, no matter how good the trellis system.
Secondly, the improvements in shoot positioning, though only partially complete, had begun to show their worth, with better fruit exposure leading to much better colour and flavour.
At the winery, it was generally agreed that, for the first time, both the Ribbon Vale reds were beginning to show some Moss Wood influence.
Cellaring Notes
Should cellar easily for 7-10 years and reward the effort with a luscious wine.