Moss Wood Ribbon Vale Vineyard 2005 Merlot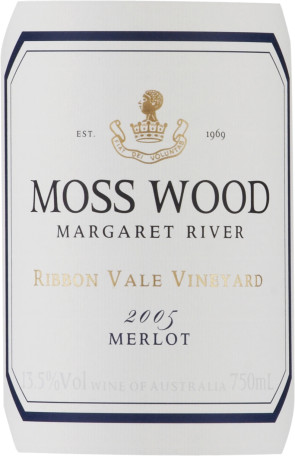 Wine Facts
| | |
| --- | --- |
| Harvested: | 12/3/2005 |
| Bottled: | 14/2/2007 |
| Released: |  24/5/2007 |
| Yield: | 8.94 t/ha |
| Baume: | 12.78 |
| Alcohol: | 13.50% |
| | |
SOLD OUT
---
Tasting Notes
The 2005 Ribbon Vale Merlot is restrained on the nose, supple, round and silky smooth with powerful ripe dark plum and blackberry flavours, tight structure and significant tannins on a firm finish. It will soften further with time without losing any of the brightness of fruit that are a feature of the wine at present.
Vintage Notes
The 2005 vintage was a dream harvest for the reds from both Ribbon Vale and Moss Wood, although not necessarily for all in Margaret River. There was significant rain in the region just after we picked our reds and so those who had to wait may not be as enthusiastic about the season as we are. However, when reflecting on the great years that precede this one, Keith is certain there are not too many that were better. The balance of the 1980 and 1990, the concentration and complexity of 1991, the generosity of 1996 and the complete power of 2001 – the 2005 gives them all a real shake.
In addition to the good season, the performance of the Ribbon Vale vineyard gets better each year as we had hoped it would, driven initially by the trellis improvements we made, and now by our greater experience. The vine yields and vigour are in better balance, giving a commensurate improvement in fruit exposure and this has improved the maturity and ripeness of the tannins. The wines have greater fruit depth and the seeds appear to be undergoing a more complete ripeness than in the past. Restraining and ripening the tannins has always been the key to success in this vineyard.
Production Notes
There have been some minor changes to the routine of wine production, with the Ribbon Vale reds now being put through open fermenters. Both the Cabernet Sauvignon and Merlot were then hand plunged to extract softer tannins and making them much in the Moss Wood mould. Skin contact continued for about ten days, tasted every day to monitor tannin balance and once achieved, the wines were pressed and put into oak.
As usual, one-third of the French barriques were new. We continue to evaluate different barrel types for these wines, as we do for all the wines we make, but currently, our preference is for the characters produced by Tonnellerie Remond.
In all, the Ribbon Vale reds remained in oak from April 2005 to January 2007. After barrel storage, a full range of fining trials were conducted but we didn't believe they offered any improvements and so the wines remained unfined. They were then sterile filtered and bottled.
After this introduction, readers may not be surprised that we feel this is the best vintage yet from the vineyard. Both the reds offer very serious quality.
Cellaring Notes
The tannins, too, will benefit from time in the bottle and we recommend at least 10 more years ageing.
Consumed now, this is a red that will be at its best when served with a robust beef or lamb dish.