Moss Wood Ribbon Vale Vineyard 2004 Semillon Sauvignon Blanc
Moss Wood Ribbon Vale Vineyard 2004 Semillon Sauvignon Blanc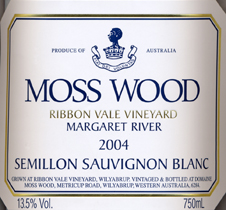 Wine Facts
Blend: Semillon 54%, Sauvignon Blanc 46%
| | |
| --- | --- |
| Harvested: | 29/2/2004 |
| Bottled: | 27/7/2004 |
| Released: | 29/9/2004 |
| Yield | 11.60 t/ha |
| Baume: | 13.40 |
| Alcohol: | 13.50% |
| | |
SOLD OUT
---
Tasting Notes
The Moss Wood 2004 Ribbon Vale Vineyard Semillon Sauvignon Blanc is delightfully fragrant, has tropical flavours of passionfruit, lychee and guava as well as grassy yet restrained herbal notes and a squeeze of lemon citrus. It is vibrant, juicy, pristine and finer than most expressions of this blend. Flavour builds in the glass before a finish that is refreshingly crisp with zippy acidity and an aftertaste that is dry and lingering.
The sauvignon blanc provides fragrant aromatics while the ripe semillon fills out the palate. It has very up-front flavours with guava, passionfruit and a touch of green leaf from the sauvignon blanc and some fig and lemon sherbet notes from the semillon. Compared to the very good 2002 – which came second in a large Australia-wide tasting of the blend by the Australian Gourmet Traveller WINE panel – Keith believes that it has better texture, longer flavours and is cleaner and fresher with no phenolics.
Review by Peter Forrestal for Gourmet Traveller Wine – Autumn 2005 Four star rating This is the fifth vintage since Moss Wood took over nearby Ribbon Vale. The vineyard has undergone dramatic change since then, including being converted to Scott Henry trellising. The warm 2004 vintage was a tricky one in Margaret River as the grapes ripened quicker than expected. Moss Wood dopped a quarter of the sauvignon and one-third of the semillon fruit and still ended up with the crop levels they had originally estimated. The 2004 Ribbon Vale is fresh, clean and lively, but is more restrained and lacks the concentration of the 2002 vintage. Bourne liked its leanness and the passionfruit, pink grapefruit and lemony flavours, although he found that the finish was just a touch too hard.
Review: Tyson Stelzer – July 1, 2005 listed at tysonstelzer.com Keith Mugford combines grassy sauvignon blancs with ripe, lemony semillon to provide mouthfeel in this fresh, citrusy blend. Lemon sherbert flavours linger on a long finish, built on well-structured acidity. Masterfully created. Very good wine. Best drinking around 2005-2006. Like it.92/100
[hr]
Vintage Notes
This was a good vintage for these varieties at the Ribbon Vale Vineyard. In spite of crop thinning, both yielded slightly above average. The warm year means that each variety has good weight and vibrant attractive aromatics. If pushed, Keith believes that the sauvignon blanc fared slightly better out of the two in 2004. Although the Semillon Sauvignon Blanc is made to maximise immediate enjoyment of the wine – whereas the Semillon is built for structure and longevity – the approach in the Ribbon Vale vineyard to achieve this is every bit as rigorous as it is in the Moss Wood vineyard. To maintain concentration of flavour, one quarter of sauvignon blanc and one third of semillon was dropped from the vines. Amusingly, the vineyard still cropped at the level that staff had estimated before thinning took place. They dread to think what might have happened if it hadn't been cut back. The grapes were picked in two halves: the sauvignon blanc commenced on the 3rd of March when it was 12° beaume and the yield 12 tonnes / hectare; the semillon began on the 19th of March when it was 13.4° beaume and yielding 11.6 tonnes / hectare.
Keith believes that Josh Bahen relates better to this wine than he does himself and suggests that 2004 will prove a breakthrough vintage for Josh and the Moss Wood team.