Moss Wood Ribbon Vale Vineyard 2010 Semillon Sauvignon Blanc
Moss Wood Ribbon Vale Vineyard 2010 Semillon Sauvignon Blanc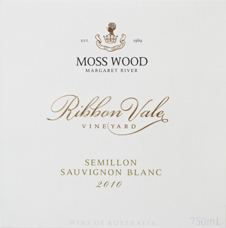 Wine Facts
| | |
| --- | --- |
| Harvested: | 20/3/2010 |
| Bottled: | 4/2/2011 |
| Released: | 21/3/2011 |
| Alcohol: | 14.00% |
| Vintage Rating: | 10/10 |
| | |
SOLD OUT
---
Tasting Notes
Colour and condition: Fresh bright and youthful, pale straw.
Nose: Lifted and complex aromas of honeysuckle, limes, leaf and cumquats.
Palate: This shows the benefits of this traditional blend because it combines fresh, crisp acidity of Sauvignon Blanc with the rich textural experience of Semillon. The result is complimentary flavours of lemon zest and gooseberry that linger over
[hr]
Vintage Notes
Sauvignon Blanc:
7th March, 2010
Semillon: 20th March, 2010
2010 was oddly similar to the 2009 vintage. Both are notable for the very even weather conditions, where extreme heat has been avoided but the days have been sufficiently warm to promote consistent ripening. The vines responded accordingly, with good shoot growth early in the season, a good fruit set during flowering and then retention of excellent varietal aromas during ripening.
[hr]
Production Notes
The Sauvignon Blanc grapes were brought to the winery, destemmed and crushed and the must was then pumped through the must chiller to bring the temperature down to around 8°C and delivered into the press, where they were held for 2 hours. This skin contact helps increase the gooseberry fruit aromas. The must was then pressed and the pressings kept separate for additional fining. The juice was settled for 48 hours, after which the clear portion was racked to a stainless steel tank for fermentation. This was carried out by 2 different yeasts, X5 and Vin13, and the temperature was maintained at 14°C. The ferments took 14 days to complete, after which the batches were racked off gross lees and combined in readiness for blending with the Semillon. Handling of the Ribbon Vale Semillon is virtually identical to its Moss Wood counterpart. The fruit was destemmed and crushed and the must was pumped through the must chiller to bring the temperature down to 8°C and then delivered into the press. Using low pressure cycles, the juice was slowly extracted and the pressings kept separate for additional fining. Fermentation took 17 days and was carried out with pure yeast culture 1116, with temperature maintained at 16°C. Once this was completed, the wine was racked from gross lees and blended with the Sauvignon Blanc. Once blending was completed, fining trials were carried out and the wine was fined with bentonite for protein stability and isinglass was used to reduce phenolics. It was then sterile filtered and bottled on 4th Feb 2011.
[hr]
Cellaring Notes
Our intent with this wine is to provide attractive fruit aromas for enjoyable early consumption. Therefore, our recommendation is the wine only be cellared for the short term. However, for those with an interest in aging the white Bordeaux blend, its composition is such that it will change in bottle and develop the toasty notes of Semillon and marmalade characters of Sauvignon Blanc.