Moss Wood Ribbon Vale Vineyard 2012 Semillon Sauvignon Blanc
Moss Wood Ribbon Vale Vineyard 2012 Semillon Sauvignon Blanc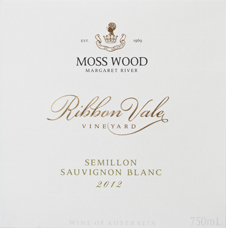 Wine Facts
Blend: 51% Semillon and 49% Sauvignon Blanc
| | |
| --- | --- |
| Harvested: | 22/2/2012 |
| Bottled: | 4/9/2012 |
| Released: | 23/11/2012 |
| Alcohol: | 13.00% |
| Vintage Rating: | 10/10 |
| | |
| | |
SOLD OUT
---
Tasting Notes
Colour and condition: Light to medium straw hue; bright condition.
Nose: Lifted fruit aromas of gooseberry, passionfruit, lychee, lemon sherbet and cheddar cheese – very bright and fresh.
Palate: Similar impact to the nose – crisp acidity, juicy lemon, passionfruit and gooseberry flavours with full body and very clean finish, with no astringency.
[hr]
Vintage Notes
With the release of the 2012 Ribbon Vale Vineyard Semillon Sauvignon Blanc, we are offering the first wine from the very high quality '12 vintage. Since we are happy to wax lyrical about how a good growing season produced high quality in the resulting wines, we thought readers might appreciate more detail of how this worked and in particular for the Sauvignon Blanc and Semillon.
There are some obvious things that we can control, like maintaining an effective fungicide program to control the threat of disease and applying nets to minimise damage from birds, to ensure that sound grapes arrive at the winery, free of fungal taints and the other odd characters. In 2012, we managed to get this right, so we covered our part of the bargain. This also meant that yields were above average for both varieties.
However, this really only underpins the result of the serious quality driver – the weather. The timing and nature of weather events will either make or break a vintage and luckily for us, this year it worked in our favour, as we describe below.
While the weather is significant during the full 6 months of the growing season, in 2012 the crucial period was from the third week of January through to the first week of March. As we approached Australia Day, conditions began to warm up. Until that point we had the odd hot day with a maximum in the mid-thirties but from the 18th to the 27th, we had a series of days where the daily temperature range was roughly 20 – 35⁰C. In case anyone is interested, as is befitting, Australia Day was the warmest of the whole season, with a minimum of 23.5⁰C at 5.30am and rising to 40.8⁰C at 12.35pm. A nice hot day for an outdoor barbie!
After this, temperatures eased for the next 2 weeks, and so did the ripening. On the 10th February, we had the start of another 3 days of warm weather, with maxima in the low to mid thirties and this brought the Sauvignon Blanc to nearly full ripeness. The next warm spell, albeit slightly cooler, starting on the 18th February, brought the ripening process to a conclusion and grapes were picked on 22nd February.
At this point, only half the battle was won because we were still waiting on the Semillon.
The temperatures eased again for the next two weeks, with maxima in the mid to high 20's, conditions which are just about perfect for vine photosynthesis. The Semillon cruised through to maturity just before the next hot day on 6th March.
Apart from the period around Australia Day, temperatures were warm enough to encourage steady ripening and we avoided damage from extreme heat – both varieties received 45 hours above 33⁰C but only 4 hours above 35⁰. In addition, 8.5mm of rain fell during the same period, nowhere enough to cause splitting and disease.
Altogether, 2012 was a very good season, albeit one where the temperatures were on the warm side. This is best shown by the harvest dates where although both varieties were picked at almost exactly average ripeness and above average yields, Sauvignon Blanc was picked 8 days earlier than average and the Semillon 11 days. The only negative is this may have slightly reduced the final quality of the Sauvignon Blanc. It can be argued that some of the fresh, green notes, important in giving juiciness and crispness, are diminished by the hours spent above 25⁰C. While that may be so, we would argue that these characters are not lost completely. Furthermore, in a wine style like a Semillon Sauvignon Blanc blend that needs full body as well as freshness, this is not necessarily to the wine's detriment because the warmer conditions promote the necessary ripeness.
[hr]
Production Notes
Median Harvest Dates and Ripeness:
Sauvignon Blanc – 22nd February, 2012; 11.7⁰ Baume
Semillon – 6th March, 2012; 13.2⁰ Baume
Both varieties were hand-picked and delivered to the winery where they were de-stemmed, drained and pressed. The free run and pressings fractions were kept separate and both were chilled and settled in stainless steel tanks. The pressings were fined to reduce phenolics.
After settling, both components were blended and seeded for fermentation with pure yeast culture. The Sauvignon Blanc juice was fermented with a yeast strain that promotes it's lifted gooseberry character, while the Semillon yeast was chosen for its neutral characteristics. As a result, temperatures were different. The former was fermented at around 12⁰C while the latter was kept at 18⁰C.
Once fermentation was completed and both varieties had reached dryness, they were settled for two weeks then racked off gross lees. The composition of both batches was checked and adjusted and then both were tasted before blending. In the end, we chose a combination of 51% Semillon and 49% Sauvignon Blanc.
The finished wine was then fined for protein stability and then sterile filtered and bottled on 4th September, 2012.
[hr]
Cellaring Notes
The combination of bright fruit aromas and fresh acidity make the wine delicious to drink now but its composition will ensure it repays cellaring. It will develop bottle bouquet over the next 5 years and can be enjoyed as a mature wine between 7 and 10 years of age.