Moss Wood Ribbon Vale Vineyard 2013 Sauvignon Blanc Semillon
Moss Wood Ribbon Vale Vineyard 2013 Sauvignon Blanc Semillon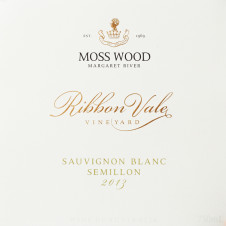 Wine Facts
Blend: 51% Sauvignon Blanc and 49% Semillon
| | |
| --- | --- |
| Harvested: | 16/2/2013 |
| Bottled: | 11/10/2013 |
| Released: | 12/11/2013 |
| Alcohol: | 14.00% |
| Vintage Rating: | 10/10 |
| | |
| | |
SOLD OUT
---
Tasting Notes
Colour and condition: Medium straw colour; bright condition.
Nose: Bright, fresh Sauvignon Blanc aromas of leaf, grass and guava; these are enhanced by a touch of cedar from oak barrels; ripe Semillon characters of lemon sherbet, fig and honey fill the background.
Palate: This is immediately generous and round, with full body and quite luxurious; acidity is still fresh, giving the wine crisp, grassy and cumquat-like fruit flavours that lead to a mineral finish, enhanced by delicate oak flavours.
Vintage Notes
After the lengthy history lesson and commentary about the impact of springtime weather on the Chardonnay, in our notes about the 2012 chardonnay spring conditions, we can commence this section by saying both Sauvignon Blanc and Semillon cope much better than their more illustrious cousin.
While they will show similar symptoms to Chardonnay, they are never as bad. Perhaps this is because both are natives of the maritime climate of the Bordeaux region in France and have evolved with a tolerance to our conditions. Or perhaps it's just the simple point that they both go through a later budburst and therefore miss out on more of the crook weather. We don't really know. All of the above is true until we confront a season like 2012/13.
The start was literally perfect, perhaps because Mother Nature wanted to lull us into a false sense of security. Take the rainfall, for example. Although calendar year 2012 was slightly below average, with 947mm recorded compared to an average of 1000mm, we received excellent Spring rain. September received a whopping 143mm, then October and November received 33mm and 60mm respectively and the timing was such that none of it interfered with flowering.
So where is the problem, readers may ask? All was well until the last few days of Spring when arrived a monumental storm, the likes of which hadn't reared its ugly head since 1996. For those who like to think about weather cycles there was a nice consistency about this because the previous such event had occurred 16 years earlier, in 1980. And then, just for further amusement, although there were no vineyards in Margaret River, the local farmers reckoned the previous such event had occurred on 1964. From our point of view, if these sorts of storms do come round in 16 year cycles, 2028 will be plenty soon enough, thanks very much. The other curiosity associated with last year's event was it did more damage to the Bordeaux varieties than Chardonnay.
Yield for Sauvignon Blanc was 8.69 tonnes per hectare, down 23% on its long term average of 11.3. Similarly, Semillon yielded 7.88 tonnes per hectare, down 30% on its average of 11.2. Chardonnay on the other hand completely stumped us. Despite showing obvious marking and pitting from hail, it produced 8.65 tonnes per hectare, some 24% ABOVE its long term average. After bashing us up, the season then settled down and we had very reasonable conditions through to harvest.
January was especially pleasant, with average temperatures and little extreme heat. February changed this and produced an average temperature of 22.15⁰C, which is 0.94⁰ above average and included the hottest day of the summer on the 12th, when the mercury reached 39.5⁰C. This combined with the lighter crops brought ripening on quite quickly. The Sauvignon Blanc was picked on 16th February, 12 days earlier than average and the Semillon was picked on 28th February, 16 days earlier. Ripeness was 12⁰ Baume in Sauvignon Blanc and 14.1⁰ in Semillon. The former was almost exactly on the average of 12.2⁰ but Semillon was nice and ripe at 1⁰ above.
After all that had gone on earlier in the process, we were relieved to get both the varieties where we like them – the Sauvignon Blanc at lower ripeness to provide juiciness and freshness and ripe Semillon to provide complexity and richness on the palate. [hr]
Production Notes
Median Harvest Date and Ripeness:
Sauvignon Blanc: 16th February 2013; 12.0⁰ Baume
Semillon: 28th February 2013; 14.1⁰ Baume
Our technique is the same for both Sauvignon Blanc and Semillon – all the fruit is handpicked, placed in bins and delivered to the winery. There the fruit is destemmed and chilled then put into the press. The free run and pressings fractions are kept separate. Both are chilled and settled in stainless steel tanks but the pressings are also fined to reduce tannin.
After cold settling for 48 hours, the juices were racked off the lees and allowed to warm up to 18⁰C and then seeded with pure yeast culture. Fermentation then proceeded through to dryness, controlled initially to 15⁰C for Sauvignon Blanc and 18⁰C for Semillon. Once fermentation is completed, the new wines were racked to stainless steel and adjusted for acidity and sulphur dioxide.
After analyses were completed and the quality of both components was confirmed, the two varieties were combined for the first time. The final contributions were Sauvignon Blanc 51% and Semillon 49%.
In an extension of our technique, designed to improve the complexity and palate weight of our style, just over 40% of the blended wine was then put to French oak barrels. After 3 months the palate had developed greater richness and the barrels had provided interesting mineral notes that highlighted the green and cedary fruit aromas of the Sauvignon Blanc. We were concerned not to compromise overall freshness and at the end of October the different components were racked and combined for the final time.
Fining trials were carried out and bentonite was used for protein stability. No other agent gave any improvement. After fining, the wine was sterile filtered and bottled.
[hr]
Cellaring Notes
The wine is delicious to drink now, with its full body and generous mouth-feel but has good acidity underneath. Over the next 10 years it will gradually build classic Semillon aged characters like toast and butter. For those who enjoy crisp, bright fruit characters, it is best drunk over the next 2 to 3 years. Those who enjoy the bottle bouquet and have the patience should keep it for at least a decade.