Moss Wood Ribbon Vale Vineyard 2007 Semillon Sauvignon Blanc
Moss Wood Ribbon Vale Vineyard 2007 Semillon Sauvignon Blanc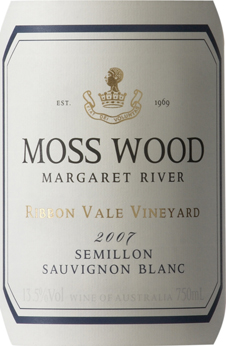 Wine Facts
Blend: Semillon 65%, Sauvignon Blanc 35%
| | |
| --- | --- |
| Harvested: | 7/2/2007 |
| Bottled: | 9/6/2007 |
| Released: | 7/11/2007 |
| Alcohol: | 13.50% |
| Vintage Rating | 9/10 |
| | |
SOLD OUT
---
Tasting Notes
Lifted primary fruit aromas of leaf, gooseberry and mango. The palate is fresh and lively with citrus, leaf and guava flavours and fine texture.
Lifted primary fruit aromas of leaf, gooseberry and mango, fragrant, bright, juicy and vibrant. The palate is fresh and lively with citrus and intense ripe tropical fruit (guava, mango, gooseberry and passionfruit)flavours and fine texture. Brilliant cool fruitiness with a crunchy, zesty and tangy finish. An irresistible youthful white.
[hr]
Production Notes
This wine is very much a product of interesting winemaking and seasonal influences. The former relates to work done by the Australian Wine Research Institute to determine the best yeast strains which enhance primary characters (especially aromatics) of Sauvignon Blanc.
From their recommendations we chose to use 3 strains – X5, Wallaby and Vin 13. We felt each batch had really distinct fruit aromas but as good as the individual components were, the final blend really shone. That leaves us with an interesting question – what of the latter? What was the real key behind the result? Was it just the impact of the yeast selections or is it the sheer quality of the 2007 vintage? Given the vibrant aromatics displayed by all the varieties we can't underestimate the impact of the season.
Overall, our approach to this wine hasn't changed – the yeast trials were all about enhancing this. We want the Sauvignon Blanc to deliver a fresh, lifted and attractive nose, while the Semillon provides complexity of aroma but more importantly, weight and length on the palate.
The fruit was destemmed into the press, in a similar fashion to the Moss Wood Semillon, drained and pressed and then settled in stainless steel tanks. It was then racked and fermented in stainless steel at 15°C. There was no lees stirring post-fermentation for the Sauvignon Blanc and only weekly stirring for the Semillon. Before bottling, it was fined for protein stability (bentonite) and tannin (isinglass) and then sterile filtered and bottled on 10th June 2007.