Moss Wood Ribbon Vale Vineyard 2011 Semillon Sauvignon Blanc
Moss Wood Ribbon Vale Vineyard 2011 Semillon Sauvignon Blanc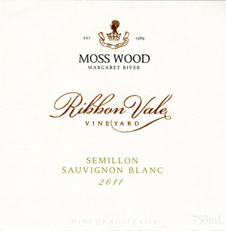 Wine Facts
Blend: Semillon and Sauvignon Blanc
| | |
| --- | --- |
| Harvested: | 13/12/2011 |
| Bottled: | 29/6/2011 |
| Released: | 13/12/2011 |
| Alcohol: | 13.00% |
| Vintage Rating: | 9/10 |
| | |
SOLD OUT
---
Tasting Notes
Colour and condition:
Light straw colour, with green tints; bright condition
Nose:
Lifted and zesty fruit aromas, showing the full array of Semillon and Sauvignon Blanc – cut grass, lemon juice, passionfruit and fig. Palate: the initial impression is crisp, fresh acidity that combines with medium body to give a refreshing lightness. The flavours are lime, green apple and fig, followed by a clean finish with no astringency.
[hr]
Vintage Notes
Our much discussed exquisite summer weather of 2011 worked a treat on the Sauvignon Blanc. Although it had a relatively early flowering, the length of season from then to harvest was slightly longer than average, for reasons about which we are not really sure. This suggests the temperatures were lower than average but this was not the case. We suspect it's more likely that our observations were not quite as accurate as they could have been.
Our window for harvesting Sauvignon Blanc is quite narrow so we need to be vigilant with our sampling. Its juicy, "green" characters can quickly disappear if the weather conditions are favourable for rapid ripening. Depending on the season, once the sugar goes beyond an equivalent alcohol level of about 12.5%, the leafy, grassy notes are quickly replaced by tropical and oily notes like papaya and guava. While these are not unpleasant, they are not really suitable in the style we prefer to make.
As we approached the start of vintage, our usual expectation is to commence with Pinot Noir, followed after about a week by Chardonnay and then Sauvignon Blanc. However, in 2011 we got a bit of a surprise when our early samples indicated the latter was likely to precede the Pinot Noir and sure enough, that's how things turned out.
The numbers are somewhat contradictory but things are not too difficult to explain. We had such glorious Spring weather that all varieties flowered earlier and faster than average. Sauvignon Blanc flowered on 12th November, some 16 days ahead of average and then it was harvested at 12.4 Baume, slightly riper than its 12.2 average on 16th February, some 14 days earlier than average. Here's an amusing twist. To have ripened in time to be picked on its average harvest date, the ripening period from flowering must have been slightly longer than the mean. Indeed it was, 98 days compared to the 10 year average of 92 days. Curious folk may wonder why this difference is 6 days, not the expected 14. The explanation may lie in the yield, which was down to 9.89 tonnes per hectare, from 11.30. The vines had a lot less work to do this year to ripen the smaller crop.
On the other hand, the impact of the yield can be seen in reverse with the Semillon. It flowered on 9th November, 2 weeks earlier than average, and was picked on 2nd March, which is 16 days earlier than average and our earliest on record. All is as expected so far. However, its ripeness was 12.5 Baume, slightly lower than its 13 Baume average and its ripening season was 113 days, compared with its average of 113. Even with an average season length, it did not reach the long-term, mean ripeness but we suspect this is because unlike the Sauvignon Blanc, Semillon managed to beat its average yield of 11.3 tonne per hectare, producing a very respectable 15.91! The average ripeness for Ribbon Vale Semillon provides an interesting insight into the difference in rates of ripening for sugar, as opposed to the flavour components, across all varieties. At harvest, we rely on a number of indicators when assessing full ripeness and deciding on harvest dates but our favourite is the appearance of the mature fruit flavours. Amusingly, at least until the sensitivity of analytical machines improves, this is one of the artistic aspects of winemaking because we rely entirely on the human palate for these measurements. Not all wine flavours are perceivable in grape juice. In fact, a number are flavourless until released during the fermentation process. However, some significant ones are perceivable in juice and people are currently the best machines for the job.
Naturally enough, anything which is an expression of opinion rather than fact, leads to lively debate about what are the ideal flavours in a particular wine style. We therefore happily acknowledge there is no right or wrong in these decisions, only differences in stylistic preferences.
The timing of the arrival of the flavours deemed suitable in the Moss Wood style is best illustrated by comparing our earliest and latest seasons, 2011 and 2006, respectively.
In 2011, a warm year, Semillon flavour ripeness was achieved on 2nd March at 12.5 Baume, after 113 days, maturing a crop of 15.91 tonnes per hectare. However, the very cool year of 2006 achieved flavour ripeness on 14th April at a higher 12.8 Baume, after 121 days. The impact of the lower temperatures can be seen by comparing ripening rates and yields. Although the 2006 vintage was picked roughly 2% riper, the 2011 crop was 85% heavier and yet, in that year, the daily rate of sugar accumulation was some 4% faster! If these comparisons seem confusing, that's because they are. None of the relationships that exist between the vine and it's ripening mechanisms are linear and there is much we don't understand.
There is a point to this discussion, which is that we prefer, for all wines, to see our fruit ripen to optimum flavour. In the case of the SSB blend, the Semillon component needs to reach the point where most of the greener aromas have disappeared, leaving a predominance of fig, honey and lanolin notes. At the same time, this ensures the palate has medium to full body and length.
The varietal percentages in the final blend are primarily driven by the vineyard area we have. Accordingly, the maximum percentage of Sauvignon Blanc in any given year, assuming both varieties yield around their average, will be around 40%. In 2011, it was in fact 62% Semillon and 38% Sauvignon Blanc. We have to admit that as long term Semillon producers, we have a cellar bias towards the influence of this variety in the style. The impact on the palate is very hard to resist and we are perfectly happy with wine at these percentages. However, if we are being honest with ourselves, it is possible for the vineyard to produce a wine more classical in style with a blend closer to 50/50. At that level we would see the best of both varieties, with more of the green, juicy lift but still with sufficient concentration and length on the palate. Like all things in wine, the evolution continues.
The other seasonal influences were exactly the same as for Moss Wood Semillon, with no disease problems and minimal losses to the birds.
[hr]
Production Notes
Median Harvest Dates and Ripeness:
Sauvignon Blanc – 17th February, 2011; 12.4 Baume
Semillon – 2nd March, 2011; 12.4 Baume
Each variety was handpicked then delivered to the winery, de-stemmed and pressed. The two components, the free run and pressings, were kept separate. The former was settled in stainless steel tanks for 48 hours and then the clear juice was racked off and seeded with a pure yeast culture. The pressings were fined and settled and then racked and seeded for fermentation.
At this point, the techniques for the two varieties diverge slightly. In order to retain the best aromatics, different yeast is use in the Sauvignon Blanc and it's also fermented at lower temperatures, usually around 14°C. Semillon, on the other hand, prefers things slightly warmer, usually 16 – 18°C. Both fermentations proceeded to dryness and were then assessed for quality and style. Neither presented any problems, so the blend was made up on 20th April, 2011.
Fining trials were then carried out but no treatments were necessary apart from the usual addition of the bentonite for protein stability. The wine was then sterile filtered and bottled on 29th June, 2011.
[hr]
Cellaring Notes
The key feature of the wine is its freshness and drinkability, so we recommend it for early consumption. However, with such good acidity and moderate alcohol level it has ideal composition for cellaring and will develop Semillon-like toasty notes on the nose and a softer, sweeter feel to the palate over the next 5 years.