Moss Wood Ribbon Vale 2016 Sauvignon Blanc Semillon
Moss Wood Ribbon Vale 2016 Sauvignon Blanc Semillon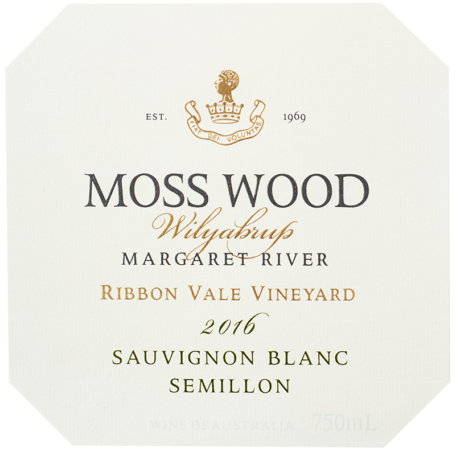 Wine Facts
Median Harvest:
Sauvignon Blanc: 10/02/2016
Semillon: 11/03/2016
Bottled:
 27/06/2016
Released:
 01/08/2016
Yield:
Sauvignon Blanc – 6.47 t/ha
Semillon – 4.91 t/ha
Baume:
Sauvignon Blanc – 11.5⁰ Be
Semillon – 13.2⁰ Be
Alcohol:
12.5%
Vintage Rating:
10/10
SOLD OUT
---
We have written enthusiastically about the 2016 vintage and the quality it produced in the Moss Wood Semillon and we are just as excited about the results for the Ribbon Vale Sauvignon Blanc and Semillon.  Both varieties had a near copybook growing season, yields notwithstanding.
Tasting Notes
All of this activity has combined to give a wine that, first and foremost, speaks of the varieties from which it is made.  The nose displays lashings of leafy, grassy Sauvignon Blanc, mixed with more generous notes of fig and honey from the Semillon.  Underneath all this primary grape aroma is a distinct apricot note, which we note above and put down to just a touch of Noble Rot in the fruit, as well as some complexity from Semillon's lanolin character.  This character should not in any way be confused with the influence of botrytis in the natural sweet wines we have made from our Ribbon Vale. The palate is medium bodied and the fresh fruit emphasis is highlighted by crisp acidity and a soft finish.
Moss Wood Ribbon Vale 2016 Sauvignon Blanc Semillon – Huon Hooke, huonhooke.com
Moss Wood Ribbon Vale 2016 Sauvignon Blanc Semillon – Jane Faulkner – James Halliday, The Wine Companion
Moss Wood Ribbon Vale 2016 Sauvignon Blanc Semillon – Ray Jordan, Sunday Times
Moss Wood Ribbon Vale 2016 Sauvignon Blanc Semillon – John Lewis – Newcastle Herald
Moss Wood Ribbon Vale 2016 Sauvignon Blanc Semillon – Sunday Telegraph Sydney, John Fordham
Moss Wood 2016 Ribbon Vale Vineyard Semillon Sauvignon Blanc – Angus Hughson – Wine Genius
Vintage Notes
The Sauvignon Blanc sailed through the ripening process and reached its required ripeness of 11.5° Baume on 10th February.  This was 2 weeks ahead of average, but this is not really a surprise, given its yield was down by 39%, to 6.47 tonnes per hectare.  Similarly, the Semillon yield of 4.91 tonnes per hectare, was down 51%.
There was an interesting difference between the seasons for the two varieties.  Despite such a small crop, the Semillon ripened noticeably slower than the Sauvignon Blanc.  It took 123 days from flowering to reach its average Baume of 13.1⁰, on 11th March, some 11 days longer than average.  Sauvignon was basically spot on its average at 87 days.   Both had low yields so why the difference?  The answer seems to be in the timing.  Our late summer and early autumn temperatures dropped quite noticeably which meant the Semillon completed its ripening in significantly cooler conditions.  Perhaps we should be thankful the crop was small because this has given the wine some delightfully lifted aromatics.
As with the Moss Wood Semillon, both varieties coped with the summer rain, with little or no issue with disease.  Sauvignon Blanc had a tiny amount of Noble Rot, which we think has added an extra dimension on the nose.  It's an interesting point because at the end of fermentation, the wine was dominated by strong varietal aromas but after aging in barrel, while retaining these, it began to show other complex notes that added to the background.  It seems the botrytis was more influential in the wine than we first thought.
Ripening Time from Flowering to Harvest:
2016 Ribbon Vale Sauvignon Blanc – 87 days
2016 Ribbon Vale Semillon – 123 days
Production Notes
The production techniques for both varieties are both very similar.  Harvesting was done by hand and the fruit was destemmed and pressed, the juice settled for 48 hours and finally the clear juice was racked to stainless steel and seeded for fermentation.  A varying selection of yeasts were used to promote aromatic lift and ferment proceeded in tank until the halfway point and the juice was then racked to barrel.  All the barrels were 228 litre French oak but none were new.  We are not looking to impart oak character to this wine.  Rather, we are keen to get the textural improvement that comes from fermenting in small oak.
At the completion of primary ferment, the individual batches of Sauvignon Blanc and Semillon were racked from barrel and blended and the completed wine was then given a further 3 months aging.
At the beginning of June all barrels were racked to stainless steel in preparation for bottling.  The wine was fined for protein stability, cold stabilised and then sterile filtered and bottled on 27th June, 2016.
Cellaring Notes
It is a delightfully fresh wine and easily enjoyed as a youngster but this belies its structure and fruit depth, that will see it age gracefully for 5 to 10 years.
View as PDF