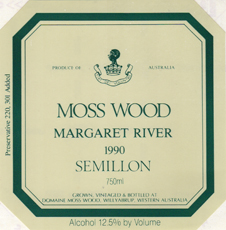 Wine Facts
| | |
| --- | --- |
| Harvested: | 20/3/1990 |
| Bottled: | 06/7/1990 |
| Released: | 16/9/1990 |
| Baume: | 12.40 |
| Alcohol: | 14.00% |
| Vintage Rating: | 8/10 |
SOLD OUT
---
Tasting Notes
The 1990 Moss Wood Semillon is typical of both the vineyard and the region. It has a relatively deep, straw colour with green tints and lovely fruit aromas with nuances of gooseberries, grapefruit and apples. The palate is fresh and crisp with lively fruit characters, good structure and weight and a long, dry finish. It is a flavoursome wine that will be attractive summer drinking when young, although it has the substance to develop into a mature wine of character and class.
Vintage Notes
No better yarn can be told about the 1990 vintage than that about the harvest of Semillon. With two-thirds of the crop picked and safely in the winery, Keith Mugford and "Tinker" Bell stood in the sunshine of a warm March afternoon outside the winery and agreed to wait for the rest of the Semillon grapes to ripen a little more. Comforted by the knowledge that March had been dry within living memory, the two sages agreed that the prospect of rain was remote.
A torrential downpour two days later soaked the vineyard in an unbelievable 50mm. As the weather was bitterly cold, the vines were not growing and so the grapes didn't split. Furthermore, picking commenced within two days of the rain - before any rot could occur. Consequently, the impact of the deluge was minimal.
Cellaring Notes
For those who love aged Semillon, the wine should cellar for at least ten to fifteen years.