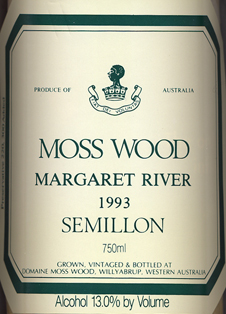 Wine Facts
| | |
| --- | --- |
| Harvested: | 04/03/1993 |
| Bottled: | 18/07/1993 |
| Released: | 14/10/1993 |
| Baume: | 12.70 |
| Alcohol: | 13.00% |
| Vintage Rating: | 10/10 |
SOLD OUT
---
Tasting Notes
The 1993 is a typical Moss Wood Semillon although it has more power and is a touch more herbaceous than most vintages. It has quite a pungent nose and shows grapefruit and apple characters with hints of figs, quince, gooseberries and some solids from lees aging. The palate is fresh, crisp and clean with a tannic grip and some zingy, lifted acid on a long finish. It has good balance, excellent weight and a pleasing mouthfeel.
Reviews: Houn Hooke and Mark Shield's 94-95 Penguin Good Australian Wine Guidepicked the 1993 Moss Wood Semillon as one of the eight Picks of the bunch. Commenting,here's one to raise the eyebrows - a wonderful wine from the West that shows great varietal definition. Delicious lemony and faintly straw-grassy flavours in a fresh, fruity style that drinks well young and has less of the trademark Margaret River herbaceousness than most of its peers.'
Moss Wood 1993 Semillon – Thebuyer.net, Roger Jones
Vintage Notes
The 1993 Semillon is likely to rank with that from the 1985 wine as one of the best vintages of this variety produced at Moss Wood. It's a pity that the November storms cut crop levels by one-third and forced plans to produce the wood-matured Semillon to be abandoned. The 1993 Moss Wood Semillon is quite high in alcohol (at 13%) and about ten per cent higher in acid than normal. Although it is quite closed and has a firm structure, it also has a great deal of power, richness of fruit flavour and an impressive fineness on the palate.
While not as soft and appealing as the 1985 Semillon at the same age because the levels of tannin and acidity are higher, the 1993 will develop more slowly and have even greater cellaring potential.
Cellaring Notes
Because the levels of tannin and acidity are high, the 1993 will develop more slowly and have great cellaring potential.