1998 Moss Wood Lefroy Brook Vineyard Chardonnay
1998 Moss Wood Lefroy Brook Vineyard Chardonnay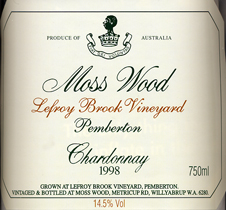 Wine Facts
| | |
| --- | --- |
| Harvested: | 12/3/1998 |
| Bottled: | 20/12/1999 |
| Released: | 16/4/1999 |
| Alcohol: | 14.50% |
---
Tasting Notes
The Moss Wood 1998 Lefroy Brook Vineyard Chardonnay shows attractive toasty oak aromas on the nose and has an opulence and generosity of ripe fruit which lingers. It is intense yet fine with a light, elegant palate and lively lime and citrus characters. Although it has undergone full malolactic fermentation it has quite a bracing acidity: fresh, crisp and clean with a nutty aftertaste.
Review: The Age's 'Epicure' section rated the 1997 vintage among Australia's top 50 chardonnays in a recent article by Ralph Kyte Powell and Jeni Port.
Click here for further details about The Lefroy Brook Vineyard
[hr]
Vintage Notes
This is Moss Wood's second year of producing chardonnay from Pat and Barbara Holt's Pemberton vineyard, "Lefroy Brook". This is situated south-east of Pemberton on the road to Northcliffe, near the Cascades – a tourist landmark and a place of remarkable beauty. The Holt's vineyard is alongside the Pemberton to Northcliffe train line and is surrounded by National Park so the entire vineyard is permanently netted. It was planted, using the traditional French vine spacing of one metre by one metre, in 1982 and 1983 so the vines are now mature. This unirrigated, low yielding vineyard is producing grapes of exceptional quality.
[hr]
Production Notes
The Lefroy Brook wine is made using identical techniques to those used to produce the Margaret River Chardonnay. The wine reveals its Pemberton origins in a number of ways. It is slightly lower in alcohol and its fruit flavours are at the citrus end of the spectrum: lemon, lime with some nutty, cashew characters and attractive toasty oak. The Lefroy Brook Chardonnay is a clear expression of its distinct fruit characters: there is a sharpness of focus on the fruit rather than on complexity and subtlety as occurs with the Margaret River wine. At present, the Lefroy Brook looks oakier than its Margaret River counterpart from the 1998 vintage. It will benefit from another six months bottle ageing during which time the fruit and oak will become more completely integrated and the oak will no longer appear to dominate.
[hr]
Cellaring Notes
Despite that there is little history, the chemistry and complex flavours of the wine suggest it should develop some interesting secondary characters and reward cellaring for at least five years.