1999 Moss Wood Lefroy Brook Vineyard Chardonnay
1999 Moss Wood Lefroy Brook Vineyard Chardonnay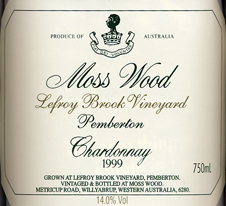 Wine Facts
| | |
| --- | --- |
| Harvested: | 1/3/1999 |
| Bottled: | 14/1/2000 |
| Released: | 6/4/2000 |
| Alcohol: | 14.00% |
---
Tasting Notes
The Moss Wood 1999 Lefroy Brook Vineyard Chardonnay is attractively scented with classical lime and grapefruit citrus aromas and a touch of peach and quince. In the background is a nuttiness and a character that we describe as 'honey toffee'. The palate is fine, of medium weight with grapefruit and citrus flavours, a tight structure and crisp fresh acidity on the finish. It is nicely integrated and has the concentration of flavour to soak up its classy oak.
Click here for further details about The Lefroy Brook Vineyard
[hr]
Vintage Notes
Six chardonnays have now been made from the Pemberton region. From 1990 to 1992 chardonnay was made from the Danti vineyard and this is the third white from Lefroy Brook vineyard. Planted by the Holts in 1982 and 1983, the vineyard is set in an amphitheatre of karri trees along the Pemberton to Northcliffe train line, situated a few miles south-east of Pemberton near the Cascades – a place of wondrous beauty and a popular tourist attraction. As it is surrounded by National Park, the entire vineyard must be netted to protect it from the birds.
The Holt's use the traditional French vine spacing of one metre by one metre and train the vines to the single guyot head shape which, although it delivers maximum quality, is rarely used in Australia. Lefroy Brook is an unirrigated, low yielding, mature vineyard which produces grapes of exceptional quality. Pat Holt is excited with the vineyard and believes that it is in better shape than ever for the 2000 vintage.
[hr]
Production Notes
The policy of making the Pemberton wine using identical techniques to the Margaret River Chardonnay is so the differences between the two wines reflect regional and vineyard characters.
[hr]
Cellaring Notes
To date we believe that it is the best of the Moss Wood Chardonnays from Pemberton and believes it will improve with short to medium term cellaring.