2003 Moss Wood Lefroy Brook Vineyard Chardonnay
2003 Moss Wood Lefroy Brook Vineyard Chardonnay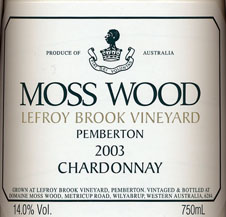 Wine Facts
| | |
| --- | --- |
| Harvested: | 22/3/2003 |
| Bottled: | 18/2/2004 |
| Released: | 2/5/2004 |
| Alcohol | 14.00% |
Tasting Notes
The Moss Wood 2003 Lefroy Brook Vineyard Chardonnay shows some light cedary oak on the nose, is cool and lively, lean and tightly structured. There are juicy lemon citrus, honeydew melon and grapefruit flavours, and mouth puckering acidity on a fresh, taut, clean finish.
Reviews
Huon Hooke from Gourmet Traveller Wine – Summer 2004
The 2003 Lefroy Brook was very fine, fruity and upfront. The '03 Margaret River, meanwhile, was taut and reserved, needing time, and showing a lot of citrusy intensity. The panel has found recent vintages quite variable.
Click here for further details about The Lefroy Brook Vineyard
Vintage Notes
This is the seventh chardonnay that Moss Wood has produced from Pat and Barbara Holt's vineyard which is situated close to the tourist landmark, the Cascades, and alongside the Pemberton to Northcliffe railway line. It is a few kilometres south-east of the township of Pemberton, seven kilometres off the road to Northcliffe. Being surrounded by National Forest, it is an easy target for the local bird population and so the entire one hectare vineyard is permanently netted. Not only does it boast mature vines, but the vineyard is close-planted and unirrigated and is therefore low-yielding.
The 2003 vintage for white wines in Pemberton was similar to that in Margaret River in terms of quality. There were similar problems also with uneven budburst and the unseasonal warmth throughout the growing season meant that quality, flavours and yield were all good.
Production Notes
The wine was made in the same way as the Margaret River Chardonnay with the same percentage of new oak and time in barrel. It even underwent a partial malolactic fermentation. There are stylistic differences between the Margaret River and Pemberton wines, with the latter being picked at a slightly lower beaume. It is consequently leaner, has a complex nose and shows more citrus and leafiness along with some honey and confectionary characters and a lively, zesty finish with well-integrated acid and tannins.
The majority of this wine was bottled under screw caps, with only a small percentage under cork (primarily for the export market).