2002 Moss Wood Lefroy Brook Vineyard Chardonnay
2002 Moss Wood Lefroy Brook Vineyard Chardonnay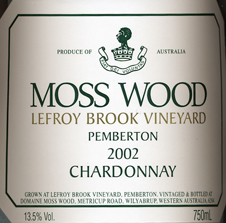 Wine Facts
| | |
| --- | --- |
| Harvested: | 23/2/2002 |
| Bottled: | 14/1/2003 |
| Released: | 6/4/2003 |
| Alcohol | 13.50% |
| | |
---
Tasting Notes
The Moss Wood 2002 Lefroy Brook Vineyard Chardonnay has delicate aromas of lemon and grapefruit citrus, honeydew melon and roasted nuts with restrained cedary oak while the palate has intense, cool, white peach, nectarine, grapefruit and lime flavours and refreshing, almost bracing,acidity. It is fresh and lively, fine, tightly structured and long.
Click here for further details about The Lefroy Brook Vineyard
[hr]
Vintage Notes
Lefroy Brook is a tiny one hectare, unirrigated, low yielding, mature vineyard which produces grapes of exceptional quality. As the yield is about two tonnes of fruit each year, it is enough to make approximately 150 cases of Moss Wood Lefroy Brook Vineyard Chardonnay.
Until now, we had regarded the 2001 Lefroy Brook Chardonnay as the best ever, however the 2002 vintage in Pemberton was an excellent one with the smaller yielding cool season allowing the grapes to ripen slowly.
[hr]
Production Notes
Each of the chardonnays made at Moss Wood in 2002 were made using the same traditional method. This means differences between the wines are entirely due to differences between the sites from which the grapes were sourced. See more detailed production notes under Moss Wood 2002 Chardonnay.