2001 Moss Wood Lefroy Brook Vineyard Pinot Noir
2001 Moss Wood Lefroy Brook Vineyard Pinot Noir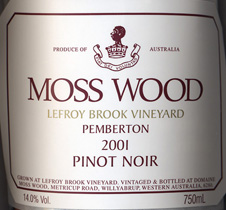 Wine Facts
| | |
| --- | --- |
| Harvested: | 3/3/2001 |
| Bottled: | 2/8/2002 |
| Released: | 16/10/2002 |
| Baume: | 12.70 |
| Alcohol: | 14.00% |
---
Tasting Notes
We believe that the Moss Wood 2001 Lefroy Brook Vineyard Pinot Noir is the best red we've seen from there. It has less of the earthy, smokey notes that one expects from the region, and riper, sweeter, less savoury characters than in many vintages. There are attractive ripe spicy, red berry and redcurrant aromatics, lively redcurrant, black cherry flavours, a silky texture and a gentle, long finish. It's a classy, succulent wine that has richness, concentration and depth of flavour.
Click here for further details about The Lefroy Brook Vineyard
[hr]
Vintage Notes
Followers of Moss Wood will be only too aware of the vagaries of the seasons and vicissitudes of viticulture. As this is the first Lefroy Brook Pinot Noir since the 1998, it must be a great relief to the owners of the vineyard, Pat and Barbara Holt.
Moss Wood produced its first Lefroy Brook Pinot Noir with the 1996 vintage. Difficulties with mites in the vineyard meant that Moss Wood chose not to buy the pinot grapes in 1999. There was a bigger crop than usual in 2000 and although the Lefroy Brook Pinot was quite fine, the team felt that it lacked concentration and was not of an appropriate standard for bottling so it went down the drain. The 2001 vintage proved to be a good one for the Pemberton region. A cool growing season from October to December was followed by very hot days at Christmas and warm conditions during January and February. The warmth meant that the grapes ripened well and showed excellent fruit aromas and flavours. The impact of the cooler weather earlier on is also evident in the fine texture and firm tannin structure of the wines.
[hr]
Production Notes
The vineyard was harvested and the grapes were transported to Margaret River where they were processed along the lines of the Moss Wood vineyard pinot.
All but 10% of the crop was de-stemmed, into an open fermenter. The remaining portion was added as whole bunches. The juice was chilled to 7?C and cold macerated for two days, during which time it was pumped over for an hour a day. It was then seeded with a pure yeast culture and fermentation took place over 13 days – with the tanks being plunged four times a day. After this, the wine was racked off gross lees into barrel where it went through malolactic fermentation. After 12 months aging in oak (33% new), the wine was racked into tank, filtered and then bottled.
[hr]
Cellaring Notes
While excellent drinking young, it should improve over the next two to three years and is capable of gaining complexity and fascinating secondary characters if cellared for five years or so.