2000 Moss Wood Lefroy Brook Vineyard Chardonnay
2000 Moss Wood Lefroy Brook Vineyard Chardonnay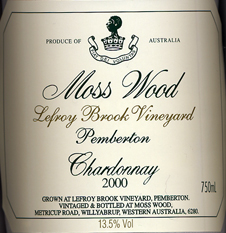 Wine Facts
| | |
| --- | --- |
| Harvested: | 11/3/2000 |
| Bottled: | 16/1/2001 |
| Released: | 13/4/2001 |
| Baume: | 13.50 |
| Alcohol: | 13.50% |
| | |
---
Tasting Notes
The 2000 vintage is typical of our Pemberton Chardonnay style. The nose has a grapefruit and lime fresh citrus lift with some pear and peach aromas in the background and toasty oak. There is complexity from the caramel characters of malolactic fermentation and also the typical Pemberton Chardonnay fruit smell, which is reminiscent of toffee and honey. The wine has a lively palate. Acid and tannin are more obvious than in the Margaret River wine but this firmness of structure provides an interesting divergence of style. The citrus fruit flavours are lifted and fresh, the mouth feel is good, with medium weight and good texture. The acidity is crisp and the oak on the finish gives complexity and adds to the overall length.
Click here for further details about The Lefroy Brook Vineyard
[hr]
Vintage Notes
Just as in Margaret River, the 1999-2000 growing season was a good one in Pemberton too. Pat and Barbara Holt had the Lefroy Brook vineyard in excellent condition, with the vines in good health and showing no hint of pest or disease. The only complication was the threat of some heavy rain from the remnants of a cyclone that had started its life in Queensland of all places. This loomed as a problem for vignerons throughout the southwest region of Western Australia but in particular at Pemberton because it looked very likely to dump a significant amount of rain on the day of the chardonnay harvest. Luckily, the heavy rain did not eventuate and so the fruit came off in excellent condition but it was certainly a close run thing..
[hr]
Production Notes
The same Moss Wood technique of production is used with the Pemberton wine. The fruit was destemmed, chilled and pressed and then the juice settled for 48 hours. This was then racked into a stainless steel tank where wild yeast commenced the fermentation. Following the process of sequential inoculation, a pure yeast strain was added during fermentation to finish the process. At 10 degrees Beaume the juice was racked into new 225 litre French oak barrels where it finished fermentation and then remained for the next ten months. Batonnage was carried out once per day during primary ferment and then once per week during the malolactic after which the wine was no longer stirred but left to sit on the lees.
[hr]
Cellaring Notes
Moss Wood has been making Pemberton Chardonnay for 10 vintages and so it is becoming easier to make predictions about the wine's future. We are very happy to recommend this wine for cellaring, believing that it will need a minimum of 5 years but would prefer that it be kept for at least 10 years by those who wish to see it at its best.