1997 Moss Wood Lefroy Brook Vineyard Pinot Noir
1997 Moss Wood Lefroy Brook Vineyard Pinot Noir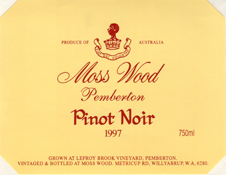 Wine Facts
| | |
| --- | --- |
| Harvested: | 18/3/1997 |
| Bottled: | 27/1/1998 |
| Released: | 12/9/1998 |
| Alcohol: | 13.50% |
---
Tasting Notes
The 1997 Moss Wood Pemberton Pinot Noir is strongly aromatic but with savoury rather than sweet fruit notes: spicy, dark cherries and slightly smoky oak. We detect more than a hint of Lapsang Souchong on the nose. The palate is initially soft but with a chewy texture; some gamey, earthy flavours: five spice, beetroot and charry oak; a firm structure with stern backbone acid and quite strong tannins. This is a wine with significant depth of flavour, good richness and concentration: a powerful rather than a pretty pinot.
Click here for further details about The Lefroy Brook Vineyard
[hr]
Vintage Notes
This is the second time the Moss Wood Pemberton Pinot has come from Pat and Barbara Holt's Lefroy Brook vineyard: a two hectare block of pinot noir and chardonnay surrounded by national forest near the Cascades, a few kilometres from Pemberton off the highway to Northcliffe. The picturesque vineyard is laid out in the classic Burgundian manner with the vines one metre by one metre apart with vertical shoot positioning.
[hr]
Production Notes
The Pemberton Pinot is made using the same techniques as those used in making the Moss Wood Margaret River Pinot Noir. Fermentation takes place over ten days at 30C with hand plunging four times a day. All the pressings are included in the wine. A malolactic fermentation occurs in stainless steel tanks and then the pinot is transferred into barrels, a third of which are new French oak. In order to capture its fruit intensity and upfront characters, the wine from Pemberton is bottled sooner than its Margaret River counterpart. It does not benefit from long term (eighteen to twenty months) ageing in oak as the wine from the Moss Wood vineyard does, so it is allowed only twelve months in barrel. After that time, it is fined with egg whites, given a light filtration and bottled.
As an aside, there is some (albeit remote) possibility of physical contamination if the wine is bottled without filtration. He has found that a light filtration can avoid any risks with negligible influence on flavour. With the previous vintage, Keith preferred the Margaret River Pinot to that from Pemberton but, with the 1997 vintage, he believes that the wine from Pemberton is the better of the two.
[hr]
Cellaring Notes
Although lack of experience makes it difficult to predict cellaring potential with any precision, there is every indication that the wine will improve over the next year or two and will drink well for at least five years.