2001 Moss Wood Lefroy Brook Vineyard Chardonnay
2001 Moss Wood Lefroy Brook Vineyard Chardonnay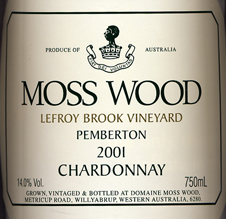 Wine Facts
| | |
| --- | --- |
| Harvested: | 11/3/2001 |
| Bottled: | 9/1/2002 |
| Released: | 7/4/2002 |
| Yield: | 3.30 t/ha |
| Baume: | 13.50 |
| Alcohol: | 14.00% |
| | |
---
Tasting Notes
The colour is medium straw with green tints and the condition is brilliant. The nose is a combination of fruit aromas like grapefruit and melon, with complex background notes of honey, cashew and toasty oak.
On the palate the wine shows a typically fine, tight, Pemberton structure, with fresh, almost taut acidity and firm tannins. There is also medium weight of melon and peach fruit and spicy oak on the finish.
Review: Huon Hooke in The Sydney Morning Herald. A brilliant Pemberton chardonnay, but subtler and less oaky than the Margaret River model. Aromas are of passionfruit, honeydew melon and crushed nuts. A complex chardonnay with fruit-driven flavour that lingers. Now to 2006. Drink with scallop en brochette.
Click here for further details about The Lefroy Brook Vineyard
[hr]
Vintage Notes
The 2001 growing season was also excellent in Pemberton and Pat and Barbara Holt were pleased with their crop at the Lefroy Brook Vineyard. Readers, however, may be amused to learn how minute a crop the property has, even in a good year. Moss Wood received a total of 4.17 tonnes from Lefroy Brook, meaning that the yields had soared to the heady heights of 3.3 tonnes per hectare (1.3 tonnes/acre)! Not only does the vineyard look like a Burgundian one, it yields like one too! Needless to say, we are very appreciative of the Holt's absolute commitment to quality. After a good season, the expectation is that the wine will be good and the 2001 vintage fits the bill.
[hr]
Production Notes
The same Moss Wood technique of production is used with the Pemberton wine. The fruit was de-stemmed, chilled and pressed and then the juice settled for 48 hours. This was then racked into a stainless steel tank where wild yeast commenced the fermentation. Following the process of sequential innoculation, a pure yeast strain was added during fermentation to finish the process. At 10 degrees Beaume the juice was racked into new 225 litre French oak barrels where it finished fermentation and then remained for ten months. Batonnage was carried out once per day during primary ferment and then once per week no longer stirred but left to sit on the lees.
[hr]
Cellaring Notes
With such good structure, the cellaring potential of the wine is considerable and we would recommend cellaring it for at least seven years.