2002 Moss Wood Lefroy Brook Vineyard Pinot Noir
2002 Moss Wood Lefroy Brook Vineyard Pinot Noir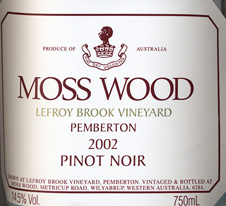 Wine Facts
| | |
| --- | --- |
| Harvested: | 17/3/2002 |
| Bottled: | 18/8/2003 |
| Released: | 9/11/2003 |
| Alcohol | 14.50% |
---
Tasting Notes
The wine has a deep ruby colour. On the nose, it has fruit aromas of strawberry and cherry combined with Pemberton's smoky, spicy notes, reminiscent of tea like Lapsang Souchong. There are also earth and mushroom characters and soft oak, which is not dominant, sitting behind the spicy characters. The palate has lively strawberry and cherry fruit flavours combined with smokiness and cinnamon-like spices. The mouth-feel is rich but the structure is firm, with good acidity and firm tannins on the mid and back palate and the finish has soft toasty oak.
Click here for further details about The Lefroy Brook Vineyard
[hr]
Vintage Notes
Moss Wood 2001 Pinot Noir Pemberton experienced similar conditions to Margaret River during the 2001 / 2002 growing season, with mild temperatures right through spring and summer. In such a cool climate, these conditions can be of concern because the prospect of less-than-complete grape ripeness looms large. Fortunately, as an early-ripening variety, Pinot Noir has as good a chance as any to reach full maturity and such was the case for 2002. This is a credit to the excellent viticulture of Lefroy Brook proprietors, Pat and Barbara Holt. It may also be a product of the vineyard's excellent location, on a very sheltered easterly slope. The production techniques for the Lefroy Brook wine are virtually identical to those used for the Moss Wood. It is interesting to note, the differences in style which exist between them are the product of the different regions. This highlights how, more than any other variety, Pinot Noir will change and reflect the environment in which it is grown.
[hr]
Production Notes
All fruit was hand picked and delivered to Moss Wood winery. It is important that the grapes are processed as soon as they arrive at the winery, despite the fact that it may be late in the day. We are not prepared to allow them to deteriorate by sitting in fruit bins until the following day. The fruit was de-stemmed into open fermenters and 5% added as uncrushed bunches. It was chilled down to 10C for 3 days and pumped over twice per day during that time. It was warmed to ambient temperature, seeded with pure yeast culture, allowed to ferment at a maximum temperature of 32C and plunged 4 times per day during the process. After 14 days on skins it was pressed, with all pressings included and then racked into barrel for malolactic fermentation. It spent 12 months in French oak barriques, 30% of which were new and then it was fined, filtered and bottled in August 2003.
[hr]
Cellaring Notes
Overall, there is good balance and depth, which should see the wine cellar well. This is one of the best Pinot Noirs we have seen from Pat and Barbara Holt's Pemberton vineyard and we expect it to continue to improve for at least 5 more years.