1998 Moss Wood Lefroy Brook Vineyard Pinot Noir
1998 Moss Wood Lefroy Brook Vineyard Pinot Noir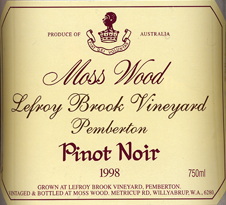 Wine Facts
| | |
| --- | --- |
| Harvested: | 12/3/1998 |
| Bottled: | 24/2/1999 |
| Released: | 5/10/1999 |
| Alcohol: | 13.00% |
---
Tasting Notes
The Moss Wood 1998 Lefroy Brook Vineyard Pinot Noir is typical of that produced by Moss Wood from Pemberton. It has a complex nose with aromas of red berries and rhubarb while the palate emphasises these savoury characters: red cherries, beetroot, rhubarb flavours with some spicy, earthy, tarry notes and soft toasty oak in the background. The texture is fine and smooth; the wine has good weight; substantial, though fine tannins and high acidity.
Click here for further details about The Lefroy Brook Vineyard
[hr]
Vintage Notes
The two hectares of pinot noir and chardonnay vines are laid out in the classic Burgundian manner; vines one metre by one metre apart with vertical shoot positioning. While it may be a picture postcard block, set alongside a dam and surrounded by the dense karri forest of a national park, it does have a frighteningly friendly bird population and so is permanently netted. This is the third consecutive vintage where Moss Wood has produced a Lefroy Brook Pinot Noir. The 1998 harvest signalled a return to normal crop levels in Pemberton at the end of a much more favourable growing season: the area was less troubled by rain than Margaret River and the fruit was in tremendous condition. The grapes were picked to get 13.5% alcohol in the finished wine which was made in an identical way to the Margaret River Pinot.
[hr]
Production Notes
Twenty per cent whole bunches were added to the fermenters to get complexity from the small amount of stalk inclusion. The fermenters were chilled to 12C for three days to allow for cold maceration. They were then returned to ambient temperature and the must was inoculated with pure yeast for fermentation to take place at about 30C. Hand plunging took place four times a day and pressing came three to four days after 0? beaume (dryness) was reached, giving a total time on skins of about 12 days. The wine was allowed to settle on its gross lees for three to four days before being racked into French barriques where it remained for 12 months. After that, the wine was fined with one egg white per barrel, given a coarse filtration and bottled.
The Pemberton Pinot needs to highlight its up-front characters and fruit intensity and does not benefit from the same long term barrel ageing (in this case 22 months) that the Margaret River wine receives.
[hr]
Cellaring Notes
We are hesitant to discuss ageing of a wine with no proven track record, but believe that this wine will improve over the next two to three years and can be cellared for at least five.