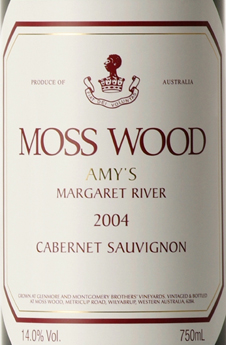 Wine Facts
| | |
| --- | --- |
| Harvested: | 24/3/2004 |
| Bottled: | 8/5/2005 |
| Released: | 1/11/2005 |
| Baume: | 13.50 |
| Alcohol: | 14.00% |
| Vintage Rating: | 9/10 |
| | |
SOLD OUT
---
Background Notes
This wine is the youngest sibling of the Moss Wood Cabernet Sauvignon and the Moss Wood Ribbon Vale Vineyard Cabernet Merlot. It is made from cabernet sauvignon from the Montgomery Brothers vineyard (about ten kilometres south of Moss Wood near Ellensbrook Road) and the Glenmore vineyard at Yallingup, about ten kilometres north of Moss Wood.
In 2003, Max and Rita Montgomery's vineyard contributed about one-third of the volume produced and this year makes up sixty per cent while Moss Wood senior winemaker, Ian Bell's vineyard contributes a smaller percentage as the total volume of this wine has increased.
The wine is a direct descendant in style from the Moss Wood Glenmore Vineyard Cabernet, but as Ian Bell has chosen to market his own wine under the Glenmore label, the name had to change.
It has been called Amy's as a tribute to his redoubtable 85 year old grandmother, Amy Beers, who still lives on the Glenmore property where she was raised. As we foreshadowed in last year's Spring newsletter, the name has been changed from The Amy's Blend because of the confusion arising from the use of the term 'blend'. It was intended to signify that it was from more than one vineyard. Around the winery we simply call it Amy's and most customers seem to as well. So, Amy's it is and long may it continue.
Tasting Notes
The Moss Wood 2004 Amy's Cabernet Sauvignon has lively dark berry aromas with some cedary oak, rich, powerful cassis and blueberry flavours and firm but fine, ripe tannins. It is generous with vibrant fresh fruit lift, softness in the mid-palate, smooth texture and a pleasing grip to finish.
We see the Glenmore vineyard contributing the ripe blueberry and redcurrant notes, generosity of fruit and firm tannins while the Montgomery adds the pretty aromatics, raspberries, violets and darker berry flavours and softer tannins.
Vintage Notes
2004 was a consistently warm growing season that fully ripened Cabernet Sauvignon, indeed harvest finished with a rush when a final warm spell hastened the last degrees of sugar. Crop levels were good, flavour development was very even and the resulting wines have good balance and drinkability, not dissimilar to the 2000's.
Production Notes
The same viticultural and winemaking principles apply to this wine as apply to every other Moss Wood wine. The grapes are monitored as the vines move close to full ripeness and are picked to achieve optimal flavour. There is about a week between picking on the two vineyards with the more northerly Glenmore, naturally, being first. In the winery, fruit from the two vineyards is processed in separate batches. As with the other Moss Wood reds, it is fermented in open tanks and hand plunged four times a day. After fermentation, it is left on skins and tasted to see that the tannins are balanced. At that point, they come off skins and are placed in barrel where they go through malolactic fermentation. After both batches have been through malo, they are racked off and blended.
With The Amy's, the team at Moss Wood are looking to retain more freshness, primary fruit and softness than in the Moss Wood or Ribbon Vale reds. To achieve this, the wine spends less time in barrels (25% of which is new), but as a result has less tannin and complexity.
Cellaring Notes
At present, Amy's will be hard to resist. However, it can be cellared with confidence for a good five years. Certainly, the tannins of the 2004 are quite firm at present but we believe that this is just because it is a young wine and that they will soften in the short term.