Moss Wood 2000 Glenmore Vineyard Cabernet Sauvignon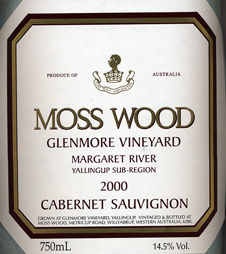 Wine Facts
| | |
| --- | --- |
| Harvested: | 30/3/2000 |
| Bottled: | 23/8/2001 |
| Released: | 8/10/2001 |
| Baume: | 14.10 |
| Alcohol: | 14.50% |
| | |
| | |
SOLD OUT
---
Tasting Notes
The Moss Wood 2000 Glenmore Vineyard Cabernet Sauvignon shows strong blueberry (a sub-regional characteristic of Yallingup wines) and spicy, leafy, redcurrant aromas. The palate has ripe plummy, blueberry flavours with earthy, spicy, toasty oak notes and is round, smooth and fleshy. There are substantial tannins and firm acidity on the finish but these are not aggressive or grippy. This is a classy red with bold perfumes, impressive depth and length of flavour, neat balance and excellent integration of fruit and oak.
Vintage Notes
The 1999-2000 growing season was quite warm during the first half, culminating on the warmest day of the summer on the 31st December.  However, after that, the warm weather abated somewhat and Margaret River had quite good rainfall. The timing of the rain was good because it fell during the third week of January, which was soon enough to avoid splitting and rot problems. The vines took up the additional water and it left them in good shape to ripen the crop, without moisture stress late in the season. Another unexpected benefit was a yield increase. All the varieties produced bigger bunches, in some instances nearly 50% heavier than normal. It meant that vineyards that were carrying a sizeable crop before the rain were very heavily laden and struggled to ripen the grapes as the autumn weather came on. Vineyards in good balance had no such problems.
Glenmore, under the expert management of Ian Bell, is very much one of these, although friendly rivalry means there may be some dispute in the Moss Wood lunch-room if, in fact, this is really the case! Certainly Matt Bowden, the Moss Wood vineyard manager has expressed grave reservations about the quality standards at Glenmore and further has cast doubts about Keith's managerial skills, since Moss Wood pays such exorbitant prices for the grapes. Ian's retort is that if Moss Wood doesn't want them then there are plenty of people in the queue to buy them! A friendly but competitive environment is encouraged at Moss Wood.
Returning once more to the wine, the harvest started on 31st March, about one week behind the average. Ripening was no problem as the grapes reached 14.1° Beaume.
Production Notes
Once in the winery, the fruit was de-stemmed and put into open fermenters. As part of our continuing experiment, fermentation was by wild yeast. Apart from that, things proceeded as normal. The tanks were plunged four times per day, temperatures were quite high (around 30°C) and pressing was carried out after 14 days on skins.
After pressing, the wine stayed in stainless steel tanks for one week and was then racked off gross lees into 228 litre French barriques - 25% of which were new. It underwent malolactic fermentation and once that was completed, the wine was racked to a stainless steel tank, analysed, adjusted for acidity and SO2 and then returned to barrels as a homogeneous blend, where it stayed for twelve months. It was bottled in August this year.
Cellaring Notes
We are still learning about the keeping potential of the Glenmore Vineyard wines, so our recommendations are conservative. However, the 1997 vintage is currently developing well and showing no signs of deteriorating. Consequently, we would expect a wine that has the fruit richness of the 2000 to perform at least as well and suggest that it be cellared for at least five to ten years.