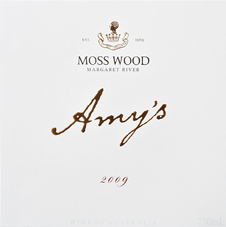 Wine Facts
Blend: Cabernet Sauvignon, Petit Verdot, Malbec & Merlot
| | |
| --- | --- |
| Harvested: | 24/3/2009 |
| Bottled: | 20/12/2010 |
| Released: | 21/3/2011 |
| Alcohol: | 14.00% |
| Vintage Rating: | 9/10 |
| | |
SOLD OUT
---
Tasting Notes
Colour and Condition: Youthful, deep brick red, in bright condition.
Nose: Displays the classic ripe fruit aromas of each variety in the blend. The Cabernet Sauvignon is blueberry and cedar; the Petit Verdot is dark jube and confectionery; the Malbec is ripe plum and earth. They combine with a very light oak background to give a perfumed, lifted nose.
Palate: The quality of the 2009 vintage is very evident here. The different varieties in the blend combine to give lifted, juicy, sweet red and dark fruit flavours, making the wine quite rich and drinkable. However, underneath there are firm tannins, running right along the palate which give the wine a suitably balanced finish. This makes the wine eminently drinkable and we encourage consumers to enjoy its youthful generosity.
Moss Wood 2009 Amy's – Neal Martin, Wine Advocate Robert Parker
Moss Wood 2009 Amy's – eRobertParker.com #196 Aug 2011 – Lisa Perrotti Brown MW
[hr]
Vintage Notes
Final Blend – Cabernet Sauvignon 56% Petit Verdot 33% A description of the 2009 vintage is really quite simple – Margaret River experienced one of its very best. The season gave us consistent warm days, with virtually no extreme heat and not surprisingly, the vines responded to produce fully mature fruit, with classic aromas and flavours and well ripened tannins. If we dare, the only complaint we could make is the yields were well below average but perhaps this was a benefit because it appears to have translated in to significant depth and complexity in the finished wines.
[hr]
Production Notes
As is traditional for this blend at Moss Wood, all batches were destemmed into open and closed fermenters and the juice was seeded with pure yeast culture. Once fermentation was underway,the tanks were hand plunged up to 4 times per day and the temperatures were controlled to a maximum of 30°C. When each batch reached dryness, it was tasted daily for tannin balance and ressed when the optimum had been reached. Skin contact varied from 10 to 15 days. After pressing, the wine was racked to stainless steel tank and allowed to settle before being racked off gross leesand seeded for malolactic fermentation. Once this was completed all batches were racked and combined and then the final blend was returned to barrel. We use a smaller percentage of new wood in Amy's because we prefer the wine to make a clean fruit statement, rather than show the complexities of oak. With the 2009 we used 25% new barrels and all were French. After a total of 15 months, the wine was racked from barrel and prepared for bottling, including fining trials. In the end, the wine received a light treatment with skim milk. It was then racked, sterile filtered and bottled on 20th December, 2010.
[hr]
Cellaring Notes
Such is the wine's composition and structure we recommend it for short to medium term cellaring only. Full body and sweet round flavours of cherry and other dark fruits, as well as melted chocolate, make the wine instantly appealing and easy to drink and further complemented by well balanced tannins. The texture is luscious and then malt biscuit and spicy oak flavours on the finish complete a palate of great balance and length.