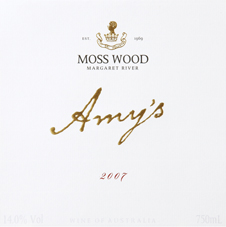 Wine Facts
Blend: Cabernet Sauvignon 68% Petit Verdot 18% Malbec 14%
| | |
| --- | --- |
| Harvested: | 12/3/2007 |
| Bottled: | 30/7/2008 |
| Released: | 8/10/2008 |
| Alcohol: | 14.00% |
| | |
SOLD OUT
---
Tasting Notes
Colour and Condition: Youthful, deep Blood Plum red, in bright condition.
Nose: Perfumed and lifted nose showing mulberry, raspberry, red currant and complex notes of cedar and pouch tobacco. The pretty fruit aromas are further complemented by spicy, perfumed chalky oak characters.
Palate: Full body and sweet round flavours of cherry and other dark fruits, as well as melted chocolate, make the wine instantly appealing and easy to drink and is further complemented by well balanced tannins. The texture is luscious and then malt biscuit and spicy oak flavours on the finish complete a palate of great balance and length.
Background Notes
Since it was first introduced with the 2002 vintage, the Amy's has always been a blended wine and the various vintages have been made up of the following components:
2002 Cabernet Sauvignon - 92%; Merlot - 8%
2003 Cabernet Sauvignon - 96%; Petit Verdot - 2%; Merlot - 2%
2004 Cabernet Sauvignon - 91%; Petit Verdot - 4%; Merlot - 3%; Malbec - 2%
2005 Cabernet Sauvignon - 85%; Malbec - 7%; Petit Verdot - 5%; Merlot - 3%
2006 Cabernet Sauvignon - 86%; Petit Verdot - 5%; Merlot - 5%; Malbec - 4%
2007 Cabernet Sauvignon - 66%; Petit Verdot - 18%; Malbec - 14%; Merlot - 2%
As the vineyards that supply these grapes have matured, the yields of the different varieties have varied and so the percentages in the finished wines have also changed. When the Glenmore, Montgomery Brothers and Bantry Bay vineyards were established, considerable thought was given to the appropriate mix of grape varieties. The makeup of the vineyard is important in resolving two key issues – seasonal variations, dictated by Mother Nature and wine style, controlled by winemakers.
In considering the former, it is important to note that these vineyards were planted in the 1990's, roughly 20 years after the original plantings in Margaret River. By this time the wine industry had accumulated valuable experience which showed for the production of Bordeaux-style table wines, Cabernet Sauvignon is pre-eminent. When fully ripened, it produces the best wines and therefore is the dominant variety on each property. However, we have also learnt that the other Bordeaux varieties can play an important role in maximising quality.
It goes without saying that no two vintages are exactly the same, so how does the choice of varieties help compensate for seasonal differences? The answers are many and varied but in summary, in cooler years when Cabernet Sauvignon is slow to ripen, the earlier varieties, Merlot and Malbec, can enhance quality because they contribute riper fruit characters and tannins. On the other hand, in seasons when Cabernet Sauvignon ripens easily and the tendency is for the wines to be more broad, the later ripening Petit Verdot provides the necessary acid and tannin to bring the wine back into balance.
The final makeup of the vineyard depends on its individual location. In general, warmer sites need less of the early ripening varieties and of course, the opposite is true of cooler sites.
Since each variety produces distinct fruit characters, winemakers can use the choice of variety to make an artistic contribution to the wine style and vary the blend to suit personal taste. For example, a producer may prefer the ripe dark fruits and ripe tannins of Malbec compared to the complexity of earth and blackberry and firm tannins found in Merlot. If so, their vineyard will contain a predominance of the former. In any of these choices there is no right or wrong, merely differences in style.
A good illustration of how the winemaker can influence style by choice of varieties is in fact the Amy\'s wine. At Moss Wood we enjoy the impact of Petit Verdot because amongst other things, it enhances the nose with its lifted berry perfumes, something quite important in a wine that relies on youthful appeal. We felt the amount available to us from Glenmore and Montgomery Brothers was not quite sufficient and so have now introduced Bantry Bay as a further source of this material.
For the Amy's wine, our preferred blend has a base of around 70% Cabernet Sauvignon, combined with 10-15% each of Petit Verdot and Malbec and up to 5% Merlot. There are fluctuations from year to year but we believe that this combination gives us the best fruit characters and structure. Our other two red wines are slightly different. Ribbon Vale Vineyard Cabernet Sauvignon Merlot is usually around 70% and 30% respectively and Moss Wood Cabernet Sauvignon is usually around 92% Cabernet Sauvignon, 4% Petit Verdot and 4% Cabernet Franc.
This evolution of the Amy's wine style has led us to change the label. Under Australian regulations, a wine cannot be labelled as a single variety unless that variety consists of 85% or more of a blend. As noted previously, the wine has always been a blend but for simplicity's sake it was always labelled as Cabernet Sauvignon. The 2007 is at 66%, so the wine can no longer be labelled as a varietal.
We do not see this as a significant change because we believe the blend offers the best wine and virtually everybody, from Moss Wood to our many customers, refers to the wine simply as the "Amy's".
Vintage Notes
Mother Nature has her ways of amusing us and there is no better example than seasonal variations. After the extended, cool season of 2006, she served up almost the complete opposite in 2007. The latter year was consistently warm all the way through and led to one of the earliest harvests on record. These sorts of years are a dream for vineyard managers because the vines produce consistent growth, are rarely damaged by storms and always look healthy. Indeed they generally are healthier because disease pressure is much lower. So it was in 2007.
We coped with the warmth of 2007 but it produced some interesting outcomes with the harvest ripeness of the different varieties. The two earliest, Malbec and Merlot were picked slightly early for fear that they would ripen too quickly. Normally they would be harvested at a minimum of 13° Baume as a precaution against slightly green Cabernet Sauvignon and Petit Verdot. On the other hand, the excellent conditions meant that the two later varieties could be left to safely ripen as much as necessary and both averaged well over 13° Baume. The net result was excellent ripeness and fruit depth across the range.
Production Notes
Here is the summary of all batches of each variety. The fruit came from the Montgomery Brothers Vineyard at Ellensbrook, the Glenmore Vineyard at Yallingup and Bantry Bay Vineyard, also at Yallingup.
Malbec
Montgomery Brothers - Median harvest date 28th Feb 2007; ripeness 12.1° Baume
Glenmore - Median harvest date 1st Mar 2007; ripeness 13.4° Baume
Total quantity - 9.79 tonnes
Combined ripeness - 12.5° Baume
Cabernet Sauvignon
Montgomery Brothers - Median harvest date 14th Mar 2007; ripeness 14.2° Baume
Glenmore - Median harvest date 13th Mar 2007; ripeness 13.6° Baume
Total quantity - 41.98 tonnes
Combined ripeness - 14.0° Baume
Petit Verdot
Montgomery Brothers - Median harvest date 15th Mar 2007; ripeness 13.3° Baume
Glenmore - Median harvest date 17th Mar 2007; ripeness 13.7° Baume
Bantry Bay - Median harvest date 22nd Mar 2007; ripeness 14.2° Baume
Total quantity - 11.19 tonnes
Combined ripeness - 13.7° Baume
Merlot
Glenmore - Harvest date 1st Mar 2007; 2.21 tonnes; ripeness 11.9° Baume
All fruit was hand picked and then de-stemmed into a combination of open and static fermenters. Open fermentations were hand plunged three times per day while static fermentations were gently pumped over twice daily and then hand plunged twice daily towards the end of fermentation. Maximum temperatures were set at 32°C. Batches were left on skins for a range of times - Cabernet Sauvignon for 12 days, Petit Verdot for 17 days, Malbec for 8 days and Merlot for 7 days. With all batches, pressing times were based on tasting and the emphasis was on the preservation of good fruit characters.
After pressing, all batches were racked to French oak barriques, 25% of which were new and continuing our limited use of new oak, so as not to dominate the fruit aromas. The wine stayed in wood until 8th July 2008, when all barrels were racked and blended in stainless steel. In preparation for bottling, fining trials were carried out but no improvement was found so the wine was not fined. It was then sterile filtered and bottled on 31st July 2008.
Cellaring Notes
It is our intention with this wine that it be enjoyed when young and our production technique is designed to preserve the best possible fruit characters on the nose and palate. For those who are keen to see how it ages, the composition and concentration are such that the wine will soften and develop in the bottle over the medium term.