Moss Wood 1999 Glenmore Vineyard Cabernet Sauvignon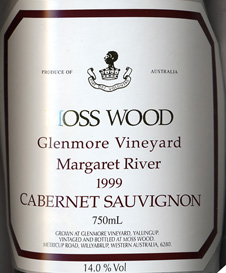 Wine Facts
| | |
| --- | --- |
| Harvested: | 19/3/1999 |
| Bottled: | 14/7/2000 |
| Released: | 10/10/2000 |
| Baume: | 13.30 |
| Alcohol: | 14.00% |
| | |
| | |
SOLD OUT
---
Tasting Notes
The Moss Wood 1999 Glenmore Vineyard Cabernet Sauvignon has quite perfumed aromas showing elegant cedary oak, red skinned fruits and some herbal notes. This is a classy, full bodied, fresh, young red with some brambly oak, spicy, blueberry and redcurrant flavours and some overtones of mint and herb. It has power, a supple, chewy texture, significant weight and fine, firm tannins.
Vintage Notes
For recreation, Moss Wood's long term vineyard manager, Ian "Tinker" Bell, looks after his own Glenmore Vineyard at Yallingup, ten kilometres to the north of Moss Wood's Wilyabrup location. It is important to achieve fruit ripeness and get alcohol levels to 13.5% for the Glenmore Cabernet because of its fine texture and delicate fruit flavours.
As we have reported before, kangaroo numbers in the Margaret River region are increasing dramatically and vineyards in the area now need to be protected from them. Because it had no kangaroo proof fence, the Glenmore vineyard had significant problems as the time drew closer to pick the 1999 harvest. Kangaroos not only plundered the fruit but damaged the nets and allowed marauding birds to get at the grapes.
There was some concern that picking might have taken place too early but it was considered necessary to take the fruit off before the damage from kangaroos and birds became too costly. However, it was picked close to what we wanted with fruit ripeness, at 13.3° beaume. Interestingly, the alcohol level in the resulting Cabernet came in higher than expected at 13.8%.
Production Notes
The wine was made in the same way as the Moss Wood Cabernet, using some of the Burgundian techniques described for the 1997 Moss Wood Pinot Noir. In particular, tasting was used post fermentation to determine the point at which the tannins were no longer continuing to soften with time on skins. For the first time, full spontaneous wild yeast fermentation was used and this was repeated for the 2000 vintage. The Glenmore Cabernet was given 12 months in oak, 25% of which were new French barriques. It was egg white fined, put through a coarse filtration and bottled in July 2000.
Cellaring Notes
We expect this wine to improve with short term cellaring and to age well over at least the next five to ten years.