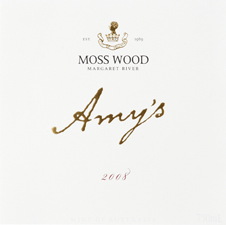 Wine Facts
Blend: 71% Cabernet Sauvignon, 11% Petit Verdot, 11% Malbec, 7% Merlot
| | |
| --- | --- |
| Harvested: | 8/3/2008 |
| Bottled: | 23/8/2009 |
| Released: | 27/9/2009 |
| Baume: | 13.60 |
| Alcohol: | 14.00% |
| Vintage Rating: | 9/10 |
| | |
SOLD OUT
---
Tasting Notes
Colour and condition: Youthful, deep brick red, in bright condition. Nose: A vibrant nose, with primary fruit aromas of mulberry and red currant from the Cabernet Sauvignon and ripe plum from the Malbec and a jube-like confectionery from the Petit Verdot. In the background there is complexity from charry oak notes, plus touches of leaf, eucalypt and cedar.
Palate: Immediately noticeable are generous red and dark fruit flavours that give the palate a juicy feel. There is full body and good texture but tannins are firm and provide backbone and length. The wine then finishes with soft, charry oak flavours.
Moss Wood 2008 Amy's – Neal Martin, Wine Advocate Robert Parker
Moss Wood 2008 Amy's – James Halliday – The Wine Companion
Vintage Notes
Moss Wood 2008 Amy's is made up of Montgomery Cabernet Sauvignon
Median Harvest Date – 23rd March 2008 Average Ripeness – 13.4 Baume
Montgomery Malbec Median Harvest Date – 6th March 2008 Average Ripeness – 12.7 Baume
Glenmore Merlot Median Harvest Date – 8th March 2008 Average Ripeness – 12.8 Baume
Bantry Bay Petit Verdot Median Harvest Date – 29th March 2009 Final Blend Average Ripeness – 13.6 Baume
Final Blend Makeup – 71% Cabernet Sauvignon; 11% Petit Verdot; 11% Malbec; 7% Merlot
We experienced something of an early onset of Autumn in February 2008. Mother Nature delivered cool nights and mild, warm days and the ripening rates for all the varieties slowed to a gentle pace. It is often the case that we are frantic during the harvest of Cabernet varieties, especially if the weather is warm. They represent a large portion of our production and we can be hard pressed to process them all on time. However, in 2008 these delightful conditions meant we had the luxury of carefully sampling each block and then picking off each section as it ripened. Overall, it's probably the most controlled vintage we've produced, possibly since 1982. This is probably best illustrated by the fact that the overall ripeness came in at a near-perfect 13.6 Baume. It is also possible to see the results of the mild conditions in the aromas and flavours of the finished wine. In particular, 2008 is a vintage of lifted fruit fragrances and beautifully balanced tannins.
Production Notes
Production technique for the Amy's is typical Moss Wood. All batches were destemmed into open fermenters and the juice was seeded with pure yeast culture. Once fermentation was underway, the tanks were hand plunged up to 4 times per day and the temperatures were controlled to a maximum of 30C, in the cap. Once each batch reached dryness it was tasted daily for tannin balance and pressed when the optimum had been reached. Skin contact varied from 10 to 15 days. After pressing the wine was racked to stainless steel tank and allowed to settle before being racked off gross lees and seeded for malolactic fermentation. Once this was completed all batches were racked and combined and then the final blend was returned to barrel. We use a smaller percentage of new wood in Amy's because we prefer the wine to make a clean fruit statement, rather than showing the complexities of oak. With the 2008 we used 25% new barrels and all were French. After a total of 15 months, the wine was racked from barrel and prepared for bottling including fining trials. In the end, the wine received a light treatment with skim milk. It was then racked, sterile filtered and bottled.
Cellaring Notes
It is certainly a wine which can be enjoyed when young because the fruit notes are mouth-filling and so we recommend it for early drinking. However, it will also repay short-term cellaring and can be aged for a further five years.