Moss Wood 1997 Glenmore Vineyard Cabernet Sauvignon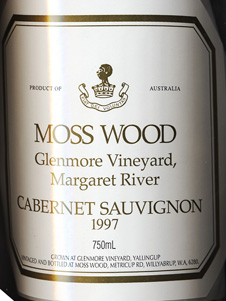 Wine Facts
| | |
| --- | --- |
| Harvested: | 23/3/1997 |
| Bottled: | 17/7/1999 |
| Released: | 4/10/1999 |
| Yield: | 5.00 t/ha |
| Alcohol: | 13.70% |
| | |
| | |
SOLD OUT
---
Tasting Notes
The 1997 Glenmore Vineyard Cabernet Sauvignon has an attractive floral nose with raspberries, violets and some charry oak aromas. The palate has red berry characters with some earthiness and ripe tannins on a finish of moderate length. This is a medium to full bodied red which is soft and round yet with the structure and weight to age well, nicely balanced with good depth and length - a well-made, flavoursome Margaret River Cabernet.
Vintage Notes
The 1997 vintage for Glenmore was a low yielding one as the vineyard was buffeted by heavy winds and hail. Although Ian Bell was hoping for six tonnes from the property, the despairing viticulturist got less than five. In a normal year, Yallingup (where the Glenmore vineyard is situated, on the corner of Caves and Injidup Roads) is expected to ripen between 10 and 14 days ahead of Wilyabrup. In 1997, Glenmore ripened two weeks after Moss Wood because of localised heavy rain. The vineyard is planted on a north facing slope, about 1.5 km from sea. The soil is gravelly, red brown loam over clay, slightly lighter than is found on the Moss Wood site.
We believe that Yallingup makes finer textured cabernets than Wilyabrup and wanted to to get at least 13.5% of alcohol (he got 13.7%) so that the wine would develop sufficient richness to make it an attractive drink. Similarly, we wanted to get the tannins as ripe as possible so that they wouldn't be too assertive. The maritime climate and closeness to the ocean means that Yallingup shows slightly cooler fruit aromas and less of the chocolatey characters than Wilyabrup.
Production Notes
The Glenmore Vineyard Cabernet doesn't taste like Moss Wood but, as identical production techniques are used, it could almost be considered as a 'son of Moss Wood'. It is attractive and interesting without having the overall complexity of Moss Wood; as having a great nose but needing just a touch more breadth. In looking at the wine analytically, we feel that the straight Glenmore is almost complete. To achieve greater complexity, it will need to be blended with about 15% merlot and 10% malbec. Ian Bell is looking to include those varieties in future plantings. Given the difficulties of the 1997 vintage, we are happy with the wine. We see the 1998 Glenmore Vineyard Cabernet Sauvignon as a seriously good wine: watch for it.
Cellaring Notes
We strongly recommend cellaring for up to ten years although it is likely to suffer in its adolescence (it could get a bit tight especially around years six to eight).